Judy Payette is my sister from another mister. I'm
the bratty little sister that she never wanted and somehow got stuck with. Judy's mom, Marie Payette-Peatross-Andrews was my other mother. When I was the secretary at First Presbyterian Church, Marie helped me count the Sunday offering every Monday morning. For years. For years and years and years. Our working relationship developed into a loving friendship that lasted until Marie's passing in 2013. In the meantime, Marie's real daughter, Judy, was living and teaching school on an Air Force Base in England.
When Judy would come home to Beaufort during the summer and at Christmastime we'd all end up together at family dinners or parties, and after a while Judy and I became very good friends. Space and decorum prevent me from telling the tall tales of our many adventures. As Marie used to say, "That does not leave this room. That's family talk." Judith Ann (that's what her mama called her, so that's what I call her) celebrated her birthday last week. My birthday gift was a girls' brunch for six and a copy of Celebrate Beaufort. Our dining room table was graced with Judy's guest list and some of my favorite Beaufort ladies. Thank you for joining us, Judy Copeland, Grace Dennis, Gam Foster and Alice Moss. Again, space and decorum prevent me from repeating the tales that were shared around the table. Again, "family talk." (I do wish the conversation could have been recorded. I'd finally have the stories to write a best seller.) Brunch lasted from 11:30 am until 4:00 pm. Just sayin'. Special days and special friendships should be celebrated. It was really good day!
The recipes this week are from our brunch. Cooking times for the egg puffs and the French toast are kind of iffy. It all depends on your oven, the size of the eggs and the thickness of the bread. Rule of thumb is that you want the centers to be set before serving. Just ply your guests with Bloody Marys and mimosas and they'll be happy to wait it out. Don't forget the coffee. Don't forget the Bailey's either. Just sayin'.
Southern-Style Sausage Balls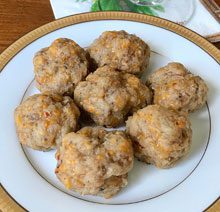 Sausage isn't as grease-laden as it used to be when I was growing up. True sausage balls should be moist and tender. That's why I like to add the cream cheese.
1 pound hot pork sausage
1 (8-ounce) package cream cheese, softened
1¼ cups baking mix (Bisquick or Jiffy)
4 ounces shredded sharp cheddar cheese
Dash of crushed red pepper flakes, if desired
Preheat oven to 375 degrees. Mix all ingredients in a large bowl. Roll mixture into 1-inch balls. Place sausage balls on a baking sheet sprayed lightly with cooking spray. Bake for 15 to 18 minutes until golden brown. Makes 55-60.
Bacon and Veggie Egg Puffs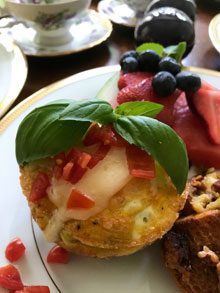 I used a jumbo muffin pan that makes six muffins. Reduce cooking time if you choose to use a twelve muffin pan.
6 tablespoons chopped red bell pepper
6 mushrooms, chopped
1/3 small onion, chopped
1 cup broccoli, roughly chopped and lightly steamed
2 tablespoons cooked and crumbled bacon
4 ounces fontina cheese, shredded and divided
12 eggs, beaten
Salt and pepper, to taste
1 small tomato, chopped
Fresh basil leaves
Spray a 6 muffin cup jumbo muffin pan with Baker's Joy (cooking spray with flour). Place a tablespoon chopped red bell pepper in bottom of each cup. Add a chopped mushroom to each cup. Top with chopped onion. Divide broccoli evenly on top of peppers, mushrooms and onions. Sprinkle with bacon and fontina cheese. Reserve some cheese to garnish after cooking. Beat eggs and season with salt and pepper. Pour eggs evenly over vegetables, bacon and cheese. Bake in a preheated 350 degree oven for 35 to 45 minutes or until eggs are set in the center. Remove from oven and sprinkle with remaining fontina cheese. Let sit for 3 to 5 minutes before removing from pan. Garnish with chopped tomato and fresh basil. Serve hot. Serves 6.
Pecan Pie Cheesecake French Toast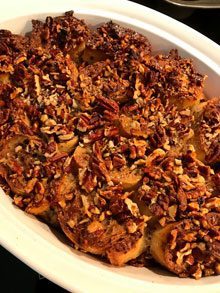 This recipe is great because you make it the night before it's served. It's kind of over the top with calories but who's counting? Special occasions are just that. Special.
18 ounces thin French baguettes
1 (8-ounce) package cream cheese, softened
8 eggs
1 cup whole milk
1 teaspoon vanilla extract
½ teaspoon nutmeg
1 teaspoon cinnamon
1 stick salted butter
1 cup packed light brown sugar
½ cup dark corn syrup
1 cup chopped pecans
Spray a deep casserole dish with cooking spray. Slice baguettes into 32 slices. Using cream cheese, make 16 mini sandwiches. Line bottom of casserole with cream cheese filled baguette slices. In a large bowl, mix eggs with milk, vanilla extract, nutmeg and cinnamon; pour evenly over bread and cream cheese. In a small saucepan, melt butter with brown sugar and corn syrup until warm and bubbly. Pour mixture over bread and eggs. Sprinkle with chopped pecans. Cover and refrigerate overnight. Preheat oven to 350 degrees. Bake covered for 20 minutes. Uncover and continue cooking for up to 45 to 60 minutes more. Cooking time will depend on how thick and wide the slices of bread are. Check to see if the center is set after 45 minutes. Let cool for 10 minutes before serving. Serves 8 to 10.
The writer owns Catering by Debbi Covington and is the author of three cookbooks, Celebrate Beaufort, Celebrate Everything! and Dining Under the Carolina Moon. Debbi's website address is www.cateringbydebbicovington.com. She may be reached at 525-0350 or by email at dbc@cateringbydebbicovington.com.