Halloween is most certainly a fun time of year. Last week, Vince and I pulled Mama's ceramic jack-o'-lantern out of the attic along with our other spooky décor. The orange dishes are behind the glass in the cupboard and the wreaths covered with fall leaves are on the doors. There's a bit of crispness in the air that brings with it, the anticipation of the upcoming holiday celebrations that are soon to follow. Being the good witch that I am, I spent all day conjuring in my kitchen, testing and tasting these fail-proof and easy to prepare recipes that I'm tickled to share with you. All of the recipes would be wonderful contributions to parties with family and friends. From my haunted kitchen to yours, Happy Halloween!
Pumpkin Chili
Pumpkin is a delightful addition to this savory beef chili recipe. Healthy and nutritious, pumpkin adds an unexpected and delicious depth of flavor.
2½ pounds ground round
1 large onion, chopped (OR 1 (10-ounce) package frozen chopped onions, thawed and drained)
1 medium orange bell pepper, diced
1 (14.5-ounce) can beef broth
1 (28-ounce) can diced tomatoes, undrained
1 (8-ounce) can tomato sauce
1 tablespoons chili powder
1 tablespoon ground cumin
1 tablespoon smoked paprika
2 teaspoons garlic powder
1 heaping teaspoon dried oregano
2 (16-ounce) cans pinto beans, rinsed and drained
2 (15.25-ounce) cans corn, drained
Salt and pepper, to taste
Heat a Dutch oven over medium-high heat. Add ground round and cook until meat is browned. Drain well on paper towels. Discard remaining fat in the pot, reserving 1 tablespoon. Add onion and bell pepper to the reserved tablespoon of fat in pot and saute until tender. Turn heat to medium. Return drained beef to pot. Add pumpkin, beef broth, diced tomatoes, tomato sauce, ketchup, wine and garlic; stir to combine. Season with chili powder, cumin, smoked paprika, garlic salt, garlic powder and oregano. Stir to combine. Simmer, uncovered, for about 10 minutes. Stir in pinto beans and corn; continue to simmer for an additional 15 minutes, stirring occasionally. Season to taste with salt and pepper. Garnish with shredded cheese, sour cream, green onions, jalapenos, diced tomatoes and sliced black olives. Serves 10 to 12.
Jalapeno Popper Mummies
Use rubber gloves when working with the jalapenos to keep from burning your skin or accidentally burning your eyes. p.s. These are a great make-ahead party dish. They're just as delicious when reheated.
8 jalapeno peppers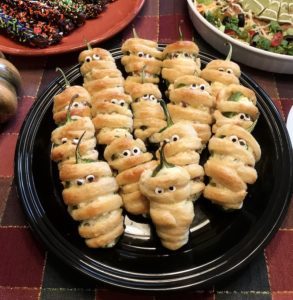 1 (8-ounce) package cream cheese, softened
½ cup shredded mozzarella cheese
1 tablespoon chopped fresh chives
1 (8-ounce) package refrigerated crescent rolls
Preheat oven to 375 degrees. Lightly grease a baking sheet with cooking spray. Slice jalapeno peppers in half lengthwise and remove the pith and the seeds. Leave the stems on some or all of the halves. In a bowl, mix cream cheese with mozzarella cheese, bacon pieces and chives. Fill each half of jalapeno with the cheese-bacon mixture. Roll out the crescent dough and separate into 4 rectangles. Cut each triangle into 10 long strips lengthwise. Wrap each jalapeno half with the dough leaving a space for the eyes. Use two or three pieces of dough, if necessary. Brush wrapped jalapenos with the beaten egg and place on prepared baking sheet. Bake in preheated oven for 12 to 15 minutes. Remove from oven. Press the eyes into the cheese where an opening is. Serve warm. Makes 16.
Spider Web Dip
Don't be intimidated by the sour cream spider web. It's just a bunch of circles lightly cut through with a butter knife. Easy!
1 (16-ounce) can refried beans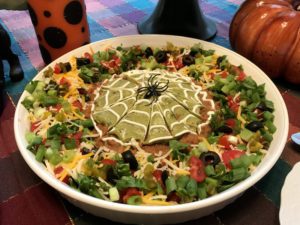 2 tablespoons taco seasoning
2 cups chopped green leaf lettuce
½ cup shredded Mexican blend cheese
1 tablespoon diced jalapeno peppers
Plastic spider ring (optional)
Mix refried beans with taco seasoning in a small bowl. On a dinner plate or a pie pan, spread seasoned beans in a circle in the center of the dish. Place chopped lettuce evenly around the outside edge of the beans. Top with shredded cheese, diced tomatoes, sliced black olives, diced jalapenos and chopped green onions. Spread guacamole in smaller circle on top of the refried beans. Place sour cream in a small squeeze bottle or resealable plastic bag. Cut a tiny piece off the corner of the bag and drizzle in circles. Starting in the center of the circles, drag a butter knife to the outside, creating a web design. Place a plastic spider in the center of the web (but don't let anyone eat it!) Serve with tortilla chips. Serves 6 to 8.
Witches Wands
Who doesn't love the combination of sweet and salty? Pretzels covered with dark chocolate, jimmies and colored sprinkles are great Halloween party favors.
1 (12-ounce) bag pretzel rods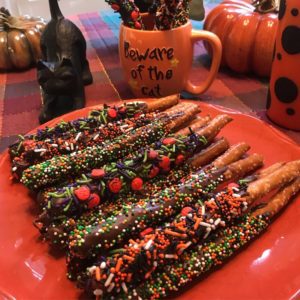 2 (12-ounce) packages dark chocolate candy melts
Assorted Halloween-colored jimmies, nonpareils and candy sprinkles
Place jimmies, nonpareils and candy sprinkles in a shallow plate(s). Melt the dark chocolate candy melts in a bowl, according to package directions. Dip individual pretzel rods in the melted candy, covering about ¾ of the surface. Use a spoon or spatula to help coat and spread evenly. Shake off any excess. Sprinkle wet pretzel with the candies to coat. Place on a baking rack to dry. Repeat until all pretzels are used. Let dry in a cool area for about 2 hours. Store in individual pretzel bags or in an air-tight container. Makes 30-35.
The writer owns Catering by Debbi Covington and is the author of three cookbooks, Celebrate Beaufort, Celebrate Everything! and Dining Under the Carolina Moon. For more great recipes and to view her cooking demonstrations, visit and subscribe to Debbi's YouTube channel. Debbi's website address is www.cateringbydebbicovington.com. She may be reached at 843-525-0350 or by email at dbc@cateringbydebbicovington.com.