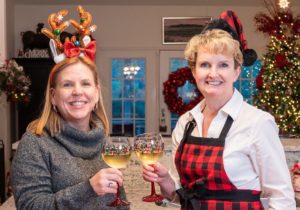 If you've been a long time Celebrate Every Day reader, you know that local photographer, Susan DeLoach, and I have collaborated on lots of things. We've joined forces on Lowcountry Weekly columns, weddings, parties, digital magazines, OLLI classes, and in 2019 we published a cookbook, Celebrate Beaufort, together. We've been good friends for close to 15 years. Several months ago, we came up with the hair-brained idea to shoot some cooking videos and put them up for viewing on a YouTube channel. We shot our first pretend cooking show and posted it in November. Since then, we've generated a half a dozen individual food demonstrations. They're all posted, if you dare to watch. We're still getting the hang of things. Susan is very professional and detailed. She's trying to keep me straight while sneaking in on some of the background action. I'm feeling more and more comfortable in front of the camera. Most of all, we've been having great fun. The whole business is getting quite professional. My husband Vince, has written and recorded background guitar music for us. Susan and I have designed a logo for the episodes, "Celebrate! with Debbi Covington." And, we're working on an intro that will air at the beginning of each recipe. My recipes this week are from a few of the Christmas episodes that we shot last week. There are six in total. Jeff and Margaret Evans will be publishing the links to our cooking antics on the Lowcountry Weekly website. If you like my recipes and want to see how they are actually created, please visit the my YouTube channel. The direct link is: www.youtube.com/channel/UCNdj52PX_3fDy6d52YBUIzw. Or,  just search for Debbi Covington. If you like what you see, please give us a thumbs up and be sure to subscribe. Merry Christmas, Happy Cooking and Cheers from Susan and me!
P.S. Are you looking for some more delicious holiday recipes? Be sure to check out the LCW Holiday Guide in this issue for three more fabulous receipts. Merry Christmas!
Jingle Juice Martinis with Candied Cranberries
A festive way to serve a new favorite Christmas cocktail. Clear plastic Christmas tree ornaments can be found at your local craft store. Make a batch of martinis, refrigerate them until party time, and then let your guests serve themselves. How fun!
For the candied cranberries:
½ cup water
1½ cups sugar, divided
1 cup fresh cranberries
Fresh rosemary fronds
In a small pot, mix ½ cup water with ½ cup sugar. Cook over medium heat until sugar is melted. Set aside to cool. Place 1/3 cup sugar in a shallow bowl. Add cranberries to the cooled sugar-water mixture and toss to coat well. Using a slotted spoon, add a few cranberries at a time to the bowl of sugar. Toss to coat. Let candied cranberries dry on baking racks. Repeat, changing sugar when it gets too wet to stick, until all of the cranberries have been covered in sugar. Store remaining berries in a covered container for 2 to 3 days. Do not refrigerate. Skewer cranberries with rosemary just before serving.
For the martinis:
1 cup cranberry juice
1 cup coconut flavored vodka
Dash grenadine
Combine all ingredients in a small pitcher. Pour into (washed and completely dry) plastic Christmas ornaments. Refrigerate until ready to serve. Serve in a martini glass with a candied cranberry skewer. Serves 3 to 4, depending on the size of your ornaments.
Winter Citrus Salad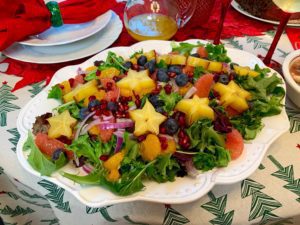 Any flavored (or unflavored) olive oil can be substituted for the blood orange olive oil. The easy vinaigrette is completely interchangeable with vinegars and oils. Use your favorites to invent your own special salad dressing. This recipe makes a little over ½ cup. Double or triple the recipe to feed a crowd.
For the vinaigrette:
¼ cup white balsamic vinegar
1/3 cup blood orange flavored olive oil
1 tablespoon honey
1 tablespoon dijon mustard
Salt and pepper, to taste
For the salad:
Mixed salad greens
Thinly sliced red onion
Red grapefruit premiums
Mandarin orange pieces
Fresh blueberries
Pomegranate arils
Carambola (star fruit), sliced
Place all of the ingredients for the vinaigrette in a small bowl. Whisk well to combine. Refrigerate until ready to serve. Place salad greens on a large platter. Top with red onion, grapefruit, mandarin oranges, blueberries, pomegranate arils and sliced carambola. Serve with the vinaigrette on the side.
Italian Sausage and White Bean Soup
Tummy-warming and completely satisfying. A great winter dinner option.
1 pound sweet Italian sausage
1 (14.5-ounce) can chicken broth
1 carrot, peeled and finely grated
1 small onion, diced
2 (16-ounce) cans navy beans
2 (16-ounce) cans cannellini or great northern beans
1 (16-ounce) can pinto beans
1 (14.5-ounce) can diced tomatoes
1-1/2 teaspoons dried oregano
Black pepper, to taste
1/3 cup chopped Italian parsley
Cook sausage in a skillet over medium-high heat until browned. Drain on paper towels. In a Dutch oven, bring chicken broth to a boil; add carrot and onion and cook until tender. Stir in beans and tomatoes; do not drain; heat through.  Stir in cooked sausage.  Season with oregano and pepper.  Heat through. Stir in parsley before serving.  Serves 10 to 12.