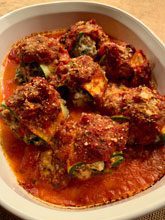 The days are getting shorter and the nights are getting longer. While very grateful for the change of seasons and the beautiful autumn décor, unfortunately for me, I'm totally solar powered. Sun-charged Vitamin D is my best friend. I'm all-over-the-place busy when the sun is up, and I need an afternoon nap on rainy days. I'm close to worthless when it's completely dark outside. That's why I'm so sad to see the summer come to an end.
I'm going to miss the long sunny days and the sultry warmth of our Lowcountry weather. Even with the crazy-hot temperatures and soaking wet humidity, I'd much rather be too hot than too cold. Either way, I'm fueled by abundant sunshine and I'm going to miss it. Besides that, some of my favorite summertime fruits and vegetables will only be available from the grocery store, not from the farmers' market. My recipes this issue feature three summer favorites, zucchini, tomatoes and strawberries. Don't be disheartened my friends, the good news is that there are only 262 days until the first day of summer 2020, Saturday, June 20that 5:44 p.m. How many days until Water Festival 2020? 
Zucchini Involtini (above)
Involtini is an Italian word for various small bites of food consisting of some sort of outer layer wrapped around a filling. Involtin can be made with a wrapper of meat, poultry, seafood, or vegetables, with fillings like cheese, vegetables, cured meats, and nuts.
1 medium zucchini
½ pound sweet Italian sausage
3 ounces fresh baby spinach leaves
½ cup ricotta cheese
1 tablespoon grated parmesan cheese
1 cup jarred marinara sauce
Grated parmesan cheese, to garnish
2 tablespoons fresh chopped Italian parsley
Slice the zucchini lengthwise, using a mandolin. (If some of the slices break, it's okay, you can piece them together.) Drizzle each zucchini strip with olive oil on both sides. Season lightly with salt and pepper. Place on a baking sheet and bake in a preheated 350 degree oven for 10 minutes or until tender. Set aside to cool. In a frying pan, cook Italian sausage until browned. Stir in spinach and cook until leaves are wilted. Remove from pan and drain on paper towels. Place sausage mixture in a medium bowl. Stir in ricotta and parmesan cheeses, mixing well to combine. Place the zucchini strips on a cutting board, piece broken slices together, if needed. Divide the sausage mixture evenly on one end of each of the zucchini strips and roll them. Spray a baking dish with cooking spray. Place zucchini rolls, seam side down, in prepared dish. Top each rollatini with prepared marinara sauce. Bake, uncovered, for 30 to 40 minutes, or until heated through. Garnish with grated parmesan cheese and chopped Italian parsley. Serves 2.

Caprese Bruschetta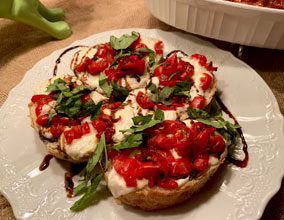 Always a winner!
For the balsamic reduction:
1 cup balsamic vinegar
Pour vinegar into a small saucepan and place over high heat. Bring to a boil. Reduce heat to low and simmer until the vinegar has reduced to 1/3 cup, about 15 minutes. Set balsamic reduction aside to cool. Cover, unrefrigerated, until ready to serve.
For the bruschetta:
Italian bread
Fresh baby mozzarella cheese balls
Grape tomatoes, diced
Fresh basil leaves, julienned
Preheat oven to 350 degrees. Slice bread into ½-inch thick slices. Place in a single layer on a prepared baking sheet. Top each slice with baby mozzarella cheese balls and chopped tomatoes. Bake in preheated oven for 10 minutes or until cheese is melted. Remove from oven and drizzle with balsamic reduction. Garnish with fresh basil. Serve warm.
Strawberry Sundaes
You're going to need an ice cream maker for this recipe. Times have changed from the old-timey hand-cranking with rock salt and ice machines. Ice cream makers these days are compact and easy to use. They're typically less than $65.00 and absolutely worth the money.
3 cups fresh ripe strawberries, stemmed and sliced
4 tablespoons lemon juice
1½ cups sugar, divided
1½ cups whole milk
2¾ cups heavy cream
1½ teaspoons vanilla extract
Strawberry preserves, warmed slightly in microwave oven
Diced fresh strawberries, to garnish 
Chopped pecans, toasted
In a small bowl, combine the strawberries with the lemon juice and ½ cup sugar. Stir gently and allow the strawberries to macerate in the juice for 2 hours. Strain the berries, reserving juices. Mash or puree half of the berries. In a medium mixing bowl, use a hand mixer on low speed to combine the milk and remaining cup of sugar until the sugar is dissolved. Stir in the heavy cream, reserved strawberry juice, mashed strawberries and vanilla extract. Pour into a 2-quart ice cream maker and prepare according to manufacturer's directions. Five minutes before ice cream is completed, add the reserved sliced strawberries and let mix in completely. Transfer the ice cream to an airtight container and place in freezer for 2 hours before serving. To serve, place strawberry ice cream in individual serving dishes. Top with warm strawberry preserves and garnish with diced fresh strawberries and toasted pecans. Makes about 7 cups.

The writer owns Catering by Debbi Covington and is the author of three cookbooks, Celebrate Beaufort, Celebrate Everything! and Dining Under the Carolina Moon. Debbi's website address is www.cateringbydebbicovington.com. She may be reached at 525-0350 or by email at dbc@cateringbydebbicovington.com.