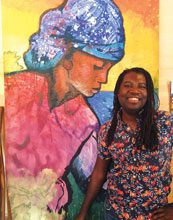 By Mindy Lucas
Amiri Geuka Farris was just 17 years old when he won his first major art award as part of the Congressional Art Competition, in which a winner from each congressional district is selected, then honored at the nation's capitol. 
   It was a big deal not only because Farris got to go to Washington, D.C. where he met California Congresswoman Maxine Waters and actress Sarah Jessica Parker among others, but also because no one at his West Palm Beach, Florida high school, including Farris' principal, knew who he was or that there was such a talent in their midst.
   Like some sort of campy '90s movie or teenage fantasy come true, it was a heady moment for Farris to suddenly be propelled into the limelight in such a high profile way. Not only was it the start of something big for the naturally quiet artist, it was also a lesson in learning how to toot one's own horn. 
   Farris will also tell you he's perfectly fine with doing his own thing and letting the chips fall where they may.
   "I knew then I was going to have difficulty," said Farris, who recently sat down at Penn Center on St. Helena Island to talk about his work, on exhibit there, and his career in general.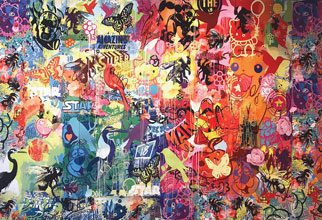 A contemporary painter and mixed media artist who seems to have found personal and professional reward in being true to himself, Farris donated several large scale pieces to Penn which now hang in the Visitors Center. 
   Several others, part of a private collection that was donated by art collector and philanthropist, Dr. Fred Hicks, are also displayed in the center's administrative offices.
   The pieces portray joyful, ebullient scenes of Gullah-Geechee people set in nature or pictured with elements of the Lowcountry – water, plants, baskets overflowing with the fruits of one's labor. Their faces and expressions are immaculately done and distinctly Farris.
   The fact that a Farris painting has a look and feel that is all Farris is something the 44-year-old was able to accomplish quite early in his career, though he says he was older when it happened. The paintings at Penn Center were mostly from around 2008. Since that time Farris has been moving beyond those earlier works, seemingly in search of something new.
Early Life
   Born in Pittsburg, Pennsylvania, Farris actually grew up in vibrant West Palm Beach, Florida, a multicultural beachfront city about an hour north of Miami.
   Because his school didn't offer art for younger children, his mother, a Kindergarten and science teacher, began sending Farris, as young as 6 and 7 years old, to adult art classes at the local arts center.
   "The teachers would say, I don't think he's advanced enough to be in here," he said. But those skeptics usually changed their minds once they saw the young prodigy's work, even when it came time for life drawing, or drawing using nude models.
   Farris thinks it was probably his quiet, extremely focused nature combined with a strong work ethic that won the respect of many of the adults in those early classes.
   "They saw I could draw and would say, 'Where'd you learn how to do that?'" he said.
   By the time Farris got to high school he was taking art classes nearly every day after school, and also helping to paint and design sets for a local performing arts theater, where he also became interested in performing arts.

   Although he admits he wasn't that great a student in other areas, his mother – a constant guiding light in his life – continued to push him along the path of education, encouraging him to take classes that might help him later in life.
   "She was very supportive of everything I did. She even put me in computer classes," he said, laughing.
   Those computer classes came in handy when Amiri went off to college at the Savannah College of Art and Design (SCAD), where he majored in illustration, and later used photography and computer-aided graphics in his work. 
   His mother then encouraged him to go on to graduate school. She wanted her son to be able to find employment while pursuing his art.
   "At the time I didn't really want to go to, but I'm glad I listened," he said.
   Farris, who also taught at USC Beaufort in Bluffton, is now a professor at SCAD teaching foundation studies such as drawing, 2D design and painting.
   Not only does teaching allow Farris time to work on his art, he said, but it also provides a sense of satisfaction in working with young artists who are just starting out.
   "It's very rewarding," he said. "Everything is new and exciting to them."
   For Farris, it's important to nurture and guide students, so they can learn and teach themselves rather than insist young artists paint or create the way he does. A student once told him he had really enjoyed his class because of that.
   "He said he learned so much through the way I taught and learned how to find his own style," he said.
An Original Style
   Farris was well out of graduate school and in his late 20s when he found his stride or started becoming more of a professional, he said.
   "I think I was older when I started developing my own original way of doing things," he said.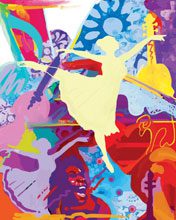 Artists that inspire him include modern masters Andy Warhol and Jean-Michel Basquiat, as well as the Russian painter Wassily Kandinsky, considered the pioneer of abstract art. He also likes contemporary street artist Shepard Fairey, originally from Charleston and best known as the creator of the Obama "Hope" poster.
   Regionally, he's been compared to another Lowcountry painter, Jonathan Green, though Farris finds the comparison a bit odd.
   Asked if he thinks it's because, like Green, he is a black male artist who has, at times, painted scenes of Gullah – Geechee life in the Lowcountry, Farris said, yes, probably.
   "And when people compare me to him, I usually think, 'Oh that's nice, but my work is nothing like his.'"
   And that's another thing about Farris – he's not tied to any one region. Even though he lives in Bluffton and works in Savannah, he enjoys participating in shows from Hilton Head to St. Helena and all over the region.
   He has painted murals for the Port Royal Sound Foundation's Maritime Center, for the Savannah Children's Museum, for the "Pantone Pantry by Tribute" a sort of pop up, outdoor installation for the opening of the Alida Hotel, also in Savannah, and most recently for Brookgreen Gardens, in Murrells Inlet.
   In addition, he's painted a car for Hilton Head's Concours D'Elegance and has either been featured or been the featured artist at a number of festivals including Bluffton's Seafood and Arts Festival and recently served as the artist in residence for Reconstruction Beaufort.
   His newer work will be featured in the upcoming Hilton Head celebration "Crescendo" in an exhibit opening Oct. 10.
   As if he's learned a lesson from his youth, he now knows it's important to "put yourself out there" and be able to both define and protect your brand as well. 
   "I think as you get older you have doubts," he said. "You get more critical of the things you do and I'm my own worst critic."
   Which is why you also have to step back from doing too many things, he added.
   "You can easily get pushed into a lot of directions," he said. "I've had to tell people no, even though it might be a paying thing, to focus on creating a new body of work."
   Part of managing that process has been talking to other artists to see how they manage their time, he said. 
   "They will to tell you, you have to finish your own projects," he said. 
Going Further
   These days Farris is not only going beyond what many are used to seeing as his style, or a Farris painting, and he's pushing the envelope as well.
   One of the ways he has done that has been to move away from a more figurative style to a non-objective, or even abstract approach. He especially likes incorporating symbols and patterns in his paintings. 
   In previous works, these small symbols and squares have appeared as part of a texture or pattern, say on a woman's scarf, while at other times the symbols are part of the background.
   "I had always used them and then someone at a show came up to me and said, 'Oh these are Adinkra symbols.' I didn't know," he said.
   Adinkra symbols are a form of ancient communication traced back to Ghana and other parts of West Africa and can be found on everything from fabrics to pottery to walls and woodcarvings.The symbols can represent concepts, original thought or messages. A swirl, he explained, can mean to learn from your past while moving forward. 
   When you compare what Farris was painting to the symbols, an almost exact replication, it's hard not to think some part of him already knew or understood on a deeper level what he was painting. It's a bit of magical thinking that makes Farris smile that Zen smile of his that says, "Whatever you think."
   He's now working to create his own symbols while incorporating them into abstract works that might include comic book characters or a collage of popular imagery, bits of photography or something like an African mask.
   "I like to see artwork that will take one medium and use it to do something else," he stated in an artist's vision statement online. "Artwork that is bold, expressive and completely different." 
   Carrie Hirsch, who has known Farris for more than a decade and has used his work in herandher husband's own award-winning documentary "Hilton Head Back in the Day – Through the Eyes of the Gullah Elders," said she seen how Farris'workhasevolved and expanded.
   "He started a series of self portraits a few years ago which are absolutely spectacular on a large scale," said Hirsch. "And (he) has worked on different projects which show the diversity in his work including his permanent works at the Mercedes Benz Stadium in Atlanta."
   Another area where Farris has expanded his work is through a type of interactive, live art experience he calls "Action Paintings."
   These are usually large scale paintings that he starts, then takes out into a public space or show and opens and invites the public to help with the painting. It can be a fun experience for adults and children alike, but Farris especially enjoys when kids take part.
   "I don't see a lot of young people when I go to shows," he said. This disconnect between young people and the world of art is something that's personally troubling for Farris, given his own background of sitting in classes with adults all those years ago.
   He wants to create an "Action Painting" at every major museum in the world, in fact, that will get both children and adults more involved with art through public art.
   It may seem like a far-flung goal to have, but in many ways, Farris is already well on his way. His work has been featured in more than 50 solo and juried exhibitions worldwide, including Washington, D.C. andParis, Turkeyand St. Petersburg, Russia.
   He wonders if we've gotten away from that idea somehow – that art should be enjoyed but instead has become too much of a hands-off, or stand-back-and-observe sort of thing.
   "I'll see them watching and they may say, 'Oh, I don't want to mess it up," he said.
   He can usually persuadepeople to jump in by telling them you can't mess it up because after all, isn't that the point – that art is supposed to be fun?
   "Exactly, art is fun," he said.
If You Go
Several of Amiri Geuka Farris' large scale paintings can be viewed at Penn Center, 16 Penn Center Circle West, St. Helena Island. In addition, an exhibit featuring Farris' work will also run as part of Hilton Head's Crescendo 2019 a celebration of art, music, theatre, dance, poetry and more. Farris' exhibit is from Oct. 10 through Nov. 15 at the Coastal Discovery Museum, 70 Honey Horn Drive, on Hilton Head Island.
Online Extra: A recent "Action Painting" by Amiri Farris