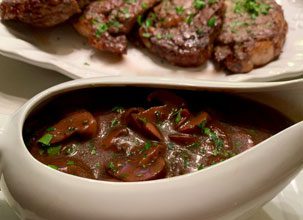 Yep. Vince and I had another dinner party. This time it was a steak dinner for four. Vince grilled the ribeye steaks while I did kitchen duty.
Vidalia Onion Dip was our appetizer. It's an easy spread for crostini or crackers. You could even bake it in the little filo tarts that are sold on the frozen foods aisle in the grocery store. I put together a delicious salad with a light balsamic vinaigrette, made a mushroom sauce for the steaks and whipped some cauliflower instead of making baked potatoes. For dessert we served Coffee Latte Frozen Yogurt topped with chocolate-covered espresso beans. We bought a Cuisinart ice cream machine last summer and have been experimenting with different ice creams this month. This was my first attempt at frozen yogurt. The texture is a bit different from ice cream but it's just as tasty, with way fewer fat and calories. I hope you'll invite a couple of friends over to your house and try these yummy recipes. Happy Cooking!
Vidalia Onion Dip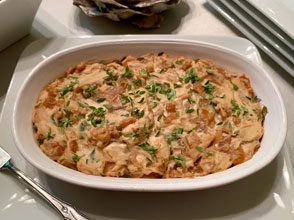 2 tablespoons butter 
1 large vidalia onion, chopped 
Salt and pepper, to taste
¼ teaspoon fresh thyme leaves
8 ounces cream cheese, softened
1 tablespoon chopped fresh Italian parsley
½ teaspoon fresh thyme leaves, to garnish 
Melt butter in a skillet over medium heat. Add chopped onion and cook for 15 minutes. Season to taste with salt and pepper. Continue to cook onions for 10 to 15 minutes more or until onions are golden brown and caramelized. Add ¼ teaspoon fresh thyme leaves. Remove from heat. In a medium bowl, mix onions with cream cheese and parsley; mix well to combine. Place in a small baking dish and heat for 10 to 15 minutes or until warmed through. Garnish with ½ teaspoon fresh thyme leaves. Serve warm with cocktail crackers or crostini. Serves 4 to 6.

Apple and Blue Cheese Salad with Sweet Balsamic Vinaigrette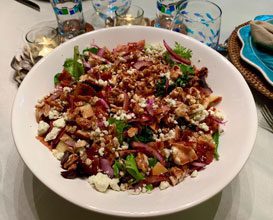 You can add more or less for the salad ingredients. I'm pretty sure I used more than 5 ounces of blue cheese.
For the vinaigrette:
1/3 cup vegetable oil
6 tablespoons honey 
¼ cup balsamic vinegar
¼ teaspoon dry mustard
Freshly ground black pepper 
For the salad:
8 cups salad greens 
1 large red delicious apple, diced
12 slices bacon, cooked and crumbled
2 tablespoons thinly sliced red onion 
5 ounces crumbled blue cheese 
½ cup toasted walnuts, chopped 
Place vinaigrette ingredients in a jar with a tight-fitting lid. Shake well to combine. Place salad ingredients in a serving bowl. Toss with vinaigrette and serve. Serves 4.

Grilled Ribeye Steaks with Red Wine Mushroom Sauce (see top photo)
I'm assuming you already know how to grill a steak to your liking. I seasoned our steaks with Monterey Steak Seasoning instead of salt and pepper. You're going to love this mushroom sauce!
4 boneless ribeye steaks, grilled to taste
For the mushroom sauce:
3 tablespoons butter 
1 pound sliced baby portobello mushrooms 
2 cloves garlic, minced
1 cup cabernet sauvignon
1 cup beef broth
1 (0.87-ounce) package brown gravy mix
3 tablespoons chopped fresh Italian parsley
Let steaks rest for 10 minutes under a tent of aluminum foil. Melt 3 tablespoons butter in a large skillet over medium-high heat. Add the mushrooms and minced garlic and cook until mushrooms are tender. Add the wine and beef broth to the skillet; stir to combine. Cook until warmed through and bubbly. Sprinkle brown gravy mix over the mushroom mixture. Cook, stirring constantly, for 3 minutes. Remove from heat. Gravy will thicken upon standing. Stir in chopped parsley. Serve on grilled ribeye steaks. Serves 4.

Whipped Cauliflower Dijon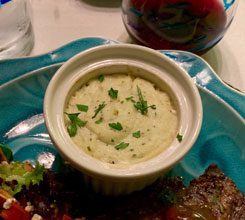 Mark Twain called cauliflower "cabbage with a college education." Cauliflower is high in vitamin C and is a fair source of iron.
2 (24-ounce) packages cauliflower florets
¾ cup half-and-half 
3 tablespoons butter 
1 tablespoon dijon mustard
½ cup grated Swiss cheese 
2 tablespoons fresh chopped Italian parsley
Salt and pepper, to taste
Chopped Italian parsley, to garnish 
Boil cauliflower in hot water until tender, about 5 minutes. Drain well, transfer to a food processor with the half-and-half, butter, dijon mustard and Swiss cheese. Process until mixture is a smooth, thick puree. Season with salt and pepper. Stir in 2 tablespoons chopped Italian parsley. Transfer mixture to 6 lightly greased ramekins. Bake in a preheated 350 degree oven for 20 minutes or until heated through. Garnish with chopped Italian parsley. Serves 6.

Coffee Latte Frozen Yogurt 
1 cup whole milk
1 packet unflavored gelatin
½ cup sugar 
3 tablespoons instant espresso powder
1 quart lowfat vanilla yogurt
½ cup half-and-half
Place milk in a 2-quart saucepan; sprinkle with gelatin and let stand 1 minute. Heat milk and gelatin and stir until smooth. Stir in sugar and espresso power; cook until sugar is dissolved. Transfer to a medium bowl and cool. Add yogurt and half-and-half. Stir until completely blended. Turn mixture into a 2-quart ice cream maker and process according to manufacturer's directions. Transfer frozen yogurt to airtight container and place in freezer for at least 2 hours before serving. Dust with espresso powder and garnish with chocolate covered espresso beans. Makes about 7 cups.

The writer owns Catering by Debbi Covington and is the author of three cookbooks, Celebrate Beaufort, Celebrate Everything! and Dining Under the Carolina Moon. Debbi's website address is www.cateringbydebbicovington.com. She may be reached at 525-0350 or by email atdbc@cateringbydebbicovington.com.