That's amore! Who doesn't love a good pizza? Longer and warmer days are incentive for quick and easy to prepare suppers. Pizza is the easiest.
You can use a prepared pizza crust, flatbread, naan, French bread, ciabatta, flour tortilla or English muffin for the base and then top it with just about anything. Pizza is a great way to use leftover sauces, veggies, meats and cheeses from other recipes, too. A fresh green salad and a glass of wine is all you need to make a complete meal. These are some of my favorites.
Shrimp and Italian Sausage Pizza (above)

I used a vegan pizza crust made by Brooklyn Bred for this recipe. There are two pizza crusts in a 15-ounce package. You can find them at Publix.
1 pound sweet Italian sausage links
½ pound shrimp, peeled and deveined
1 (7.5-ounce) prepared pizza crust
1 cup prepared traditional pizza sauce
2 cups shredded mozzarella cheese
¼ medium red onion, thinly sliced
½ teaspoon dried oregano
Remove casings from sausages. Crumble and sausage and cook until browned; drain well on paper towels. Place shrimp in a small pot of boiling water and cook until just pink, drain and cool. Preheat oven to 350 degrees. Place oven rack in center of oven. Prepare a large baking sheet with cooking spray. Place pizza crust on the baking sheet. Spread crust evenly with pizza sauce. Top with shredded mozzarella cheese, red onion, crumbled sausage and shrimp. Sprinkle with oregano. Bake pizza in preheated oven for 15 to 20 minutes or until cheese is melted and crust is warmed through. Serve hot. Serves 3 to 4.
Jalapeno Popper Flatbread
If you don't want to open a whole package of cream cheese, substitute prepared Alfredo sauce.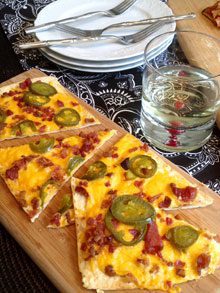 It's yummy! Real bacon bits are also an easy substitute. You'll need about ¼ cup.
1 prepared flatbread or flour tortilla
2 tablespoons cream cheese, softened
1/3 cup shredded sharp cheddar cheese
3 slices bacon, cooked and crumbled
Sliced pickled jalapeno peppers
Place oven rack on lowest rung of the oven; this will make your flatbread crispier. Preheat oven to 350 degrees. Spray a baking sheet with cooking spray. Place flatbread on prepared baking sheet. Spread flatbread evenly with softened cream cheese. Sprinkle with shredded cheddar cheese. Top with crumbled bacon and jalapeno slices. Bake for 12 to 15 minutes or until cheese is melted and edges of flatbread are lightly browned. Serves 1.
Pizza Margherita
I used the Stonefire brand naan for this recipe. They come two per package. I found these at Bi-Lo.
1 (4.4-ounce) naan bread
2 tablespoons prepared basil pesto
3 campari tomatoes, sliced
Fresh mozzarella cheese, sliced
¼ teaspoon dried basil
Fresh basil leaves, to garnish
Preheat oven to 350 degrees. Prepare a baking sheet with cooking spray. Place naan on baking sheet. Spread naan evenly with prepared pesto. Top with tomato and mozzarella slices. Sprinkle with dried basil. Bake for 15 to 20 minutes or until cheese melted and tomatoes are warmed through. Garnish with fresh basil leaves. Serves 2.
The writer owns Catering by Debbi Covington and is the author of three cookbooks, Celebrate Beaufort, Celebrate Everything! and Dining Under the Carolina Moon. Debbi's website address is www.cateringbydebbicovington.com. She may be reached at 525-0350 or by email at dbc@cateringbydebbicovington.com.