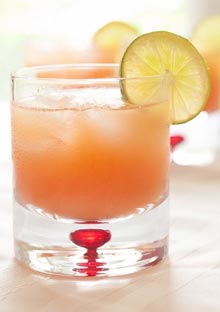 The Dog Days of Summer are upon us! It's too hot to cook. It's almost too hot to eat. Finding refreshing and satisfying foods can be challenging. The menu this week can easily be prepared in the morning before the sun is at its peak and then reheated at suppertime. Each recipe features a bit of citrus.
Sopa De Lima is a delicious lime-scented soup loaded with tender chicken and fresh tomatoes. It's perfect for a warm evening! A dollop of prepared guacamole makes the dish complete. Blueberry Crumb Bars highlight our fresh local blueberries. It's a light dessert that isn't too sweet. The blueberries are the stars, not the sugar. And, you can't go wrong with a refreshing Cool Breeze to sip on while you're getting the meal together. Stay cool, my friends.

Cool Breeze
1½ ounces tequila
Soda water
Splash grapefruit juice
Lemon slice
Lime slice
Pour tequila and soda water over ice. Top with a splash of grapefruit juice. Garnish with a slice of lemon and a slice of lime. Serves 1. (Photography by Paul Nurnberg)

Sopa De Lima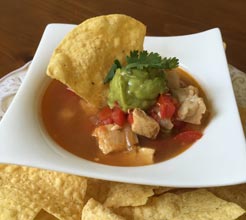 1½-1¾ pounds boneless, skinless chicken breasts
Salt and pepper
¼ teaspoon chili powder
¼ teaspoon garlic powder
4 cups chicken broth
½ cup red onion, chopped
4 garlic cloves, peeled and minced
1 tablespoon diced jalapeno peppers
2 tomatoes, diced
¼ cup lime juice
Zest of 1 lime
Fresh cilantro, chopped
Guacamole
Preheat oven to 400 degrees and grease a baking dish. Season chicken with salt and pepper. Place chicken in prepared dish and sprinkle with chili powder and garlic powder. Bake, uncovered, for 25 minutes. While chicken is baking, put a stock pot on the stove. Add chicken broth to the stock pot and heat until boiling. Add onion, garlic and jalapenos; lower heat and cook until tender. Add diced tomatoes and simmer for 2 minutes more. Stir in lime juice and lime zest. Remove chicken from oven when done and cool just enough to chop into bite-sized pieces. Add chicken and baking juices to the pot, reduce heat to low, cover pot with lid and simmer for 20 minutes. To serve, ladle soup into individual serving bowls and top each with a dollop of guacamole. Garnish with fresh cilantro. Serves 4.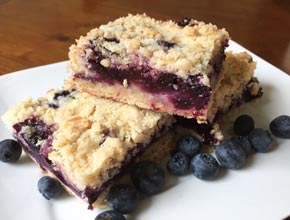 Blueberry Crumb Bars
3 cups all-purpose flour
1½ cups sugar, divided
1 teaspoon baking powder
¼ teaspoon salt
Zest of 1 lemon
1 cup cold butter, cut into small pieces
1 egg
4 teaspoons cornstarch
2 tablespoons lemon juice
4 cups fresh blueberries
Preheat oven to 350 degrees. Grease a 9×13-inch baking dish. In a medium bowl, stir together flour, 1 cup sugar and baking powder. Mix in salt and lemon zest. Using a pastry cutter or fork, mix in butter and egg. The dough with be crumbly. Pat half of the dough into the prepared pan. In another bowl, stir together ½ cup sugar, cornstarch and lemon juice. Gently fold in blueberries. Pour blueberry mixture evenly over the crust. Crumble remaining dough over the berry layer. Baker in preheated oven for 60-70 minutes or until top is slightly brown. Cool completely before cutting into squares. Makes 24. Store leftovers in the refrigerator.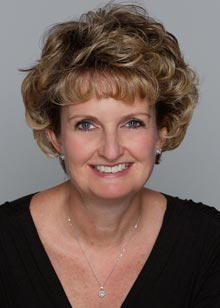 The writer owns Catering by Debbi Covington and is the author of two cookbooks, Gold Medal Winner of the Benjamin Franklin Award, Celebrate Everything! and Dining Under the Carolina Moon. Debbi's website address is www.cateringbydebbicovington.com. She may be reached at 525-0350 or by email at dbc@cateringbydebbicovington.com.