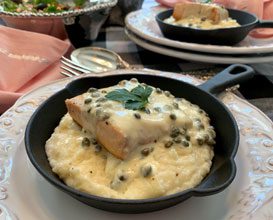 Easter Sunday is my favorite day of the year. Besides being the greatest holy day in the Christian faith, it's a day spent in communal worship singing the happiest and most glorious songs in the hymnal. Waking up on Easter morning with Christ the Lord is Risen Today bouncing around in my head and on my heart is one of the most sublime parts of the holiday. This "social distancing" business totally goes against the grain of the whole splendid celebration.
I don't remember an Easter Sunday when Vince and I didn't go to church. More often than not, we've worshipped in a sanctuary adorned with white lilies and beautiful floral arrangements. Once or twice, we've attended the sunrise services, along with local the sand gnats, at Beaufort's Waterfront Park. Easter is about being with fellow Christians, friends and family. Throughout the course of our marrriage, we've hosted a good many after church Easter Sunday meals, meaning "just show up when your church service is over, dinner will still be on the table." As y'all know, southern Easter worship services tend to run late with different denominations.
Unless things change drastically, I'm guessing that this Easter will be very different. For the first time, at least in my lifetime, churches won't be open for corporate worship. It's a blessing that Christians worldwide will be able to view church services on April 12thonline or on television. This Easter, Vince (our sweet kitty, Belle) and I will be home alone. No new Easter dress for me, no new Easter tie for Vince. That's why it's important, this year especially, that our Easter Sunday  meal is exceptional. Thus, I've designed a delightful Easter brunch for two. The recipes are easy and delicious. The addition of a glass of champagne will make the meal a true celebration.
P.S. There will be a big, huge and fabulous Easter soiree at our house in 2021. Keep the faith, my friends. Celebrate every chance you get.
Salmon and Grits with Caper Cream Sauce
Delicious salmon, served atop creamy grits and dressed with a rich caper cream sauce. Gourmet in minutes! Not to waste, I added my leftover ½ egg from the Coconut Bread recipe and stirred it into the hot grits just before serving.
For the cream sauce:
1 tablespoon butter
2 tablespoons drained capers
1 clove garlic, minced
2 tablespoons dry white wine
½ cup heavy whipping cream
Salt and pepper, to taste
For the grits:
2 cups water
3 tablespoons butter
½ cup quick-cooking grits
2 ounces mascarpone cheese
Salt and pepper, to taste
For the salmon:
2 (6-ounce) salmon filets
1 tablespoon olive oil
Salt and pepper, to taste
Make the sauce. Melt butter in a saucepan over medium heat. Add capers and garlic and saute until garlic begins to color. Add white wine and simmer about 1 minute. Add whipping cream and bring to a boil. Reduce heat to medium and simmer until sauce thickens enough to coat the back of a spoon. Season to taste with salt and pepper. Set aside. Rewarm just before serving. Make the grits. Bring water and butter to boil in a saucepan with a lid. Gradually whisk in the instant grits. Reduce heat, and cook according to package directions, stirring occasionally until grits thicken. Stir in mascarpone cheese until smooth and melted. Season with salt and pepper. Cover and set aside until ready to serve. Meanwhile, brush both sides of the salmon fillets with olive oil, then season with salt and pepper. Heat a skillet over medium heat. Add salmon and cook until opaque in the center, about 4 minutes per side. Place a serving of grits in a bowl. Top grits with salmon. Spoon caper cream sauce over the salmon. Serve immediately. Serves 2.
Arugula Salad with Berries
Simple, perfect arugula salad tossed with lemony balsamic vinaigrette and topped with fresh berries and toasted almonds.
For the vinaigrette:
2 tablespoons freshly squeezed lemon juice
1 tablespoon white balsamic vinegar
2 tablespoons extra-virgin olive oil
½ teaspoon sea salt
For the salad:
4 cups arugula
¼ cup fresh blueberries
1/3 cup sliced fresh strawberries
1 tablespoon sliced almonds, toasted
Place the vinaigrette ingredients in a small jar with a tight fitting lid. Shake well to mix. Place arugula in a salad bowl. Toss with desired amount of vinaigrette. Top with blueberries, strawberries and toasted almonds. Serves 2.
Coconut Bread
If loving coconut is wrong, I don't want to be right. You only need ½ of an egg in this recipe. It's not a typo. Just crack an egg in a small bowl and beat it with a fork. Pour half of the beaten egg in into the coconut mixture. Of course, you can double the recipe and use the whole egg if you prefer.
Crusty rustic bread
¼ cup butter, melted
½  cup sugar
½  teaspoon vanilla extract
½  cup flaked coconut
½  egg
Preheat oven to 350 degrees. Cut bread into 1-inch thick slices. Mix melted butter with sugar, vanilla, coconut and ½ egg. Spread bread with coconut mixture. Place on a baking sheet prepared with cooking spray and cook for 15 to 20 minutes or until coconut is lightly browned. Serves 2.
The writer owns Catering by Debbi Covington and is the author of two cookbooks, Gold Medal Winner of the Benjamin Franklin Award, Celebrate Everything!and Dining Under the Carolina Moon.  Debbi's website address is www.cateringbydebbicovington.com. She may be reached at 525-0350 or by email at dbc@cateringbydebbicovington.com.