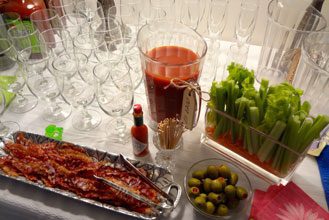 Easter is my favorite holiday! It's better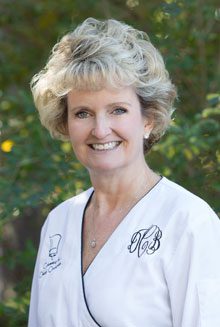 than Christmas. It's better than Thanksgiving. It's even better than my birthday. Such a special holiday requires a special meal. Dinner during the day is a very Southern thing. Even though "dinner" is eaten at lunchtime, it's a bigger deal than "supper." Supper implies a less formal meal. For example, if I say I'm having a little "supper party," you'll figure that it's nothing grand, not too much effort will be expended. If friends are invited over for a "dinner party," they'll expect something more upscale than a casserole. And yes, we eat on dinner plates, not supper plates. Holidays are big deals. They're always dinners.
The recipes and photos in this issue are from an actual Easter Dinner at our house. After church, friends and family are invited over for Bloody Marys and mimosas while everyone gathers from different worship services all over town. A baked ham and deviled eggs are a must. A layered salad, a couple of casseroles and a couple of desserts make the meal complete. I hope you have a very blessed and Happy Easter.
Bloody Marys
1 (46-ounce) bottle vegetable juice
1 tablespoon Worcestershire sauce
1 tablespoon fresh lemon juice
1 cup vodka
½ teaspoon celery seed
½ teaspoon freshly ground black pepper
½ teaspoon sea salt
Hot sauce
Celery sticks, to garnish
Combine vegetable juice, Worcestershire sauce, lemon juice, vodka, celery seed, pepper and salt in a large pitcher. Season, to taste, with hot sauce. Stir well. Serve over ice with celery sticks. Serves 8.
Marmalade and Mustard Marinated Ham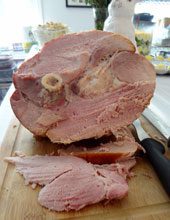 1 (7 to 8-pound) fully cooked ham half
2 cups orange juice
2 cups ginger ale
1/3 cup firmly packed brown sugar
¼ cup orange marmalade
1 teaspoon dry mustard
Place first 3 ingredients in a large heavy-duty, zip-top plastic bag. Seal bag; marinate in refrigerator 8 hours, turning bag occasionally. Remove from marinade. Reserve marinade. Place ham, fat side up, in a shallow roasting pan lined with heavy-duty aluminum foil. Bake, uncovered, at 325 degrees for 1½ hours, basting often with marinade. Remove ham from oven; reduce oven temperature to 300 degrees. Slice skin from ham; score fat in a diamond design. Combine brown sugar, marmalade, and mustard; spread over scored fat. Bake ham, uncovered, 30 more minutes. Let stand 10 minutes before carving. Serves 12.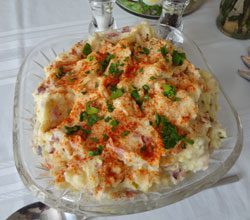 Mama's Potato Salad
3 pounds red potatoes
½ red onion, diced
3 stalks celery, chopped
1 to 1½ cups Miracle Whip
Sweet pickle relish, to taste
Salt
Freshly ground black pepper
Smoked paprika, to garnish
Bring a large pot of water to a boil. Cut potatoes into 2-inch pieces; do not peel. Add potatoes to boiling water and cook until tender. Place red onion, celery and Miracle Whip in a large bowl. Drain cooked potatoes in a colander and add to onion, celery and Miracle Whip. Using a hand mixer, mash potatoes with onion, celery and Miracle Whip to desired texture. Do not over-beat or potatoes will become sticky. Stir in sweet pickle relish and season with salt and freshly ground black pepper. Serve warm or cold in a large bowl garnished with smoked paprika. Serves 8 to 10.

Mama's Deviled Eggs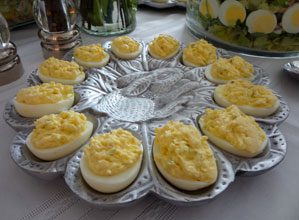 12 eggs
4 tablespoons salad dressing or mayonnaise
1 teaspoon Dijon mustard
1 tablespoon sweet pickle relish
Salt
Pepper
Paprika, for dusting
Place eggs in a large saucepan and cover with cold water. Bring to a boil for 12 minutes. Drain hot water from eggs and rinse with tap water until cool enough to handle. Remove eggs from shells and slice in half lengthwise. Separate yolks and place into a bowl. Add salad dressing, mustard, relish and salt and pepper; mash together with a fork until creamy and smooth. Fill the egg white halves with the egg yolk-relish filling. Dust with paprika. Refrigerate; serve cold. Serves 12.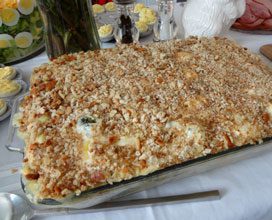 Easter Vegetable Casserole

1 (8-ounce) package cream cheese, at room temperature

1 (10.5-ounce) can cream of chicken soup
½ cup sliced or shredded carrots

1/3 cup chopped red onion
1 large yellow squash, halved and sliced

3 to 4 cups fresh broccoli florets

1 bunch asparagus, cut into 1-inch pieces

1 (8-ounce) can sliced water chestnuts, drained

1 (4-ounce) can mushroom stems and pieces, drained

1 (15-ounce) can baby corn on the cob, drained

12 slices Swiss cheese singles

1 (6-ounce) box stuffing mix

4 tablespoons butter, melted

In a large bowl, combine cream cheese and soup; mix well. Add carrots, onion, squash, broccoli, asparagus, water chestnuts, mushrooms and corn. Mix well to combine. Spread vegetable mixture into a lightly greased baking dish. Top with Swiss cheese singles. Spread stuffing mix evenly over cheese and drizzle melted butter over stuffing mix. Cover and bake in a preheated 350 degree oven for 1 hour. Remove cover and continue to bake for 15 to 20 minutes longer or until top of casserole is lightly browned. Let rest for 5 minutes before serving. Serves 10 to 12.

Pineapple Au Gratin
2 large cans chunk pineapple, drained
6 tablespoons all-purpose flour
1 cup sugar
2 cups shredded sharp cheddar cheese
1 stick butter, melted
1 sleeve butter-flavored crackers, crushed (Ritz)

Preheat oven to 350 degrees. Mix together pineapple, flour, sugar and cheese. Place in a greased casserole dish. Sprinkle crushed crackers on top. Drizzle with melted butter. Bake, uncovered, for 20-30 minutes or until heated through. Serves 8.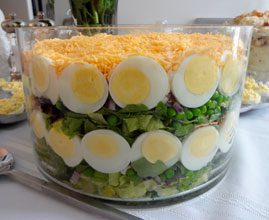 Classic Seven Layer Salad
5 cups romaine lettuce cut into small pieces
1 cup frozen baby peas, thawed
Chopped red onion, to taste
4 hard-boiled eggs, sliced
1 (12-ounce) package bacon, cooked and crumbled
2 cups salad dressing (Miracle Whip)
2 cups shredded cheddar cheese

Place salad ingredients, in layers, in a large glass bowl or trifle dish. Top with salad dressing and garnish with cheddar cheese. Cover and chill until ready to serve. Serves 12.

Strawberry Trifle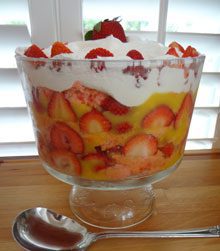 1 (15.25-ounce) package yellow cake mix
2 (3.4-ounce) packages french vanilla pudding mix
3 pounds strawberries
3 cups whipped cream
Prepare cake according to package directions; cool completely. Make pudding according to package directions; chill until set. Hull and slice strawberries. Cut cooled cake into 2-inch cubes. In a trifle dish, begin with a layer of cake cubes. Line strawberry slices up against the glass sides of the dish. Spoon on an even layer of the pudding. Repeat, making layers, until all ingredients are used. Top with a layer of whipped cream. Garnish with whole strawberries. Cover and refrigerate until ready to serve. Serves 12.
Caramel-Pecan Carrot Cake
1 (15.25-ounce) package carrot cake
1 (14-ounce) can sweetened condensed milk
1 (12.25-ounce) jar caramel sauce
1 (8-ounce) package cream cheese, softened
½ cup confectioner's sugar
1 (8-ounce) container frozen whipped topping, thawed
½ cup chopped pecans, toasted
Prepare cake in a 9×13-inch cake pan, according to package directions. Cool completely. Using the handle of a wooden spoon, make rows of holes in the prepared cake. Pour sweetened condensed milk evenly over cake. Pour caramel sauce over cake. In a small bowl, using an electric mixer, combine cream cheese with confectioner's sugar. Fold in whipped topping. Top cake with cream cheese mixture. Garnish with chopped pecans. Cover and chill until ready to serve. Serves 12.
The writer owns Catering by Debbi Covington and is the author of three cookbooks, Gold Medal Winner of the Benjamin Franklin Award, Celebrate Everything! and Dining Under the Carolina Moon. Her NEW cookbook, Celebrate Beaufort will debut on April 19th at the Sea Island Inn/Best Western on Bay Street at 5:30 p.m. "Celebrate Everyday" readers are cordially invited to attend. Debbi's website address is www.cateringbydebbicovington.com. She may be reached at 525-0350 or by email at dbc@cateringbydebbicovington.com.