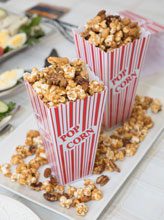 Roll out the red carpet! The 13thAnnual Beaufort International Film Festival cranks up on Tuesday, February 19thwith film makers, directors, screen writers, movie stars and lots of film-loving fans. Our local film festival is a heatwave of fun and excitement during what is typically a chilly February. According to MovieMaker magazine, the Beaufort International Film Festival has been rated as "one of the 25 coolest general film festivals in the world." 
         Cinema buffs will also be interested to know that many movies have been filmed in Beaufort. Beaufort and the Sea Islands have been the backdrop for The Great Santini, Forrest Gump, The Big Chill, G.I. Jane, Forces of Nature, The Prince of Tides, White Squall, The War,Something to Talk About, The Jungle Bookand a good many more. 
            It's not too late to purchase your golden ticket! For more information about the Beaufort International Film Festival and to purchase movie and event tickets visit www.beaufortfilmfestival.com. See you at the movies!
            P.S. Thank you, Susan DeLoach, Official Photographer for the Beaufort International Film Festival, for taking these beautiful photos of my BIFF-inspired culinary creations! For more Cooking with the Movies recipes and food photos by Susan DeLoach, pick up a copy of my latest cookbook, Celebrate Beaufort, available in local shops and bookstores, on Amazon and through my website www.cateringbydebbicovington.com.
Toffee Caramel and Nut Popcorn
There's a scene in Forces of Nature where Sandra Bullock's character, Sarah Lewis, is eating Crunch 'n Munch. That scene was the inspiration for this recipe.
For the popcorn:
3 tablespoons vegetable oil
½ cup raw popcorn kernels
Salt, to taste
3 cups nuts (pecan halves, cashews, almonds, walnuts, peanuts or any combination)
For the toffee caramel:
1½ sticks butter
1½ cups light brown sugar, firmly packed
½ cup light corn syrup
½ teaspoon baking soda
1 teaspoon vanilla extract
Preheat oven to 250 degrees. Cover a large baking sheet with aluminum foil and spray with cooking spray; set aside. Heat the vegetable oil in a large heavy-bottomed pot with a lid; add the popcorn kernels and cook until the kernels have popped. Season with salt and set aside. Remove unpopped kernels from pot. Stir in nuts. In a large heavy-bottomed saucepan, melt the butter. Stir in brown sugar and corn syrup, using a wooden spoon. Stir constantly and bring mixture to a boil. Reduce heat to between medium and medium-high and allow to boil, without stirring, for 5 minutes. Take pot off heat and stir in baking soda and vanilla extract. Quickly and carefully pour the caramel mixture over the top of the popcorn and nuts; stir to coat well. Turn out onto prepared baking sheet. Bake for one hour, stirring every 15 minutes. Stir, transfer to a cool baking sheet to dry and set. Store in an airtight container. Makes about 16 cups.

Chillin' Chef's Salad
Do you remember the scene at the dining room table in The Big Chill? Turkey, apple pie and bread were served. Tom Berenger's character, Sam Weber, throws a piece of cooked pasta at the wall but we never see spaghetti. They also serve a salad. It's not a coincidence that this salad looks a little bit like the Beaufort International Film Festival's logo.
For the dressing:
2/3 cup ketchup
½ cup white vinegar
¼ cup sugar
2½ teaspoons dry mustard
1 teaspoon salt
¾ teaspoon pepper
1 teaspoon Worcestershire sauce
½ cup vegetable oil
For the salad:
2 turkey breast tenderloins
Olive oil
Salt and pepper, to taste
Fresh rosemary, chopped
1 (8-ounce) fully-cooked ham steak
8 cups salad greens
¼ cup thinly sliced red onion
½ cup shredded carrots
1 English cucumber, sliced
½ pound bacon, cooked and crumbled
5 hardboiled eggs, quartered
1 cup cherry tomatoes, halved
4 ounces havarti cheese, julienned
4 ounces colby-jack cheese, julienned
2 tablespoons shredded parmesan cheese 
1 tablespoon chopped chives 
1 tablespoon chopped fresh Italian parsley
Fresh herbs, to garnish
Combine salad dressing ingredients in an electric blender. Process until smooth. Cover and chill for 2 hours. Preheat oven to 400 degrees. Place tenderloins on a prepared baking sheet; brush with olive oil. Season with salt and pepper; sprinkle with chopped rosemary. Bake for 30 to 40 minutes or until internal temperature of tenderloins reaches 160 degrees. Heat ham steak in a dry frying pan over medium heat until lightly browned. Turn off heat and add 2 tablespoons water; continue cooking with burner off for 3 minutes. Let turkey tenderloins and ham steak cool slightly. Cut tenderloins into bite-sized medallions. Cut ham steak into cubes. Toss salad greens with red onion and place on a platter. Top with shredded carrots, cucumber, turkey medallions, cubed ham, crumbled bacon, hardboiled eggs, tomatoes, havarti cheese and colby-jack cheese. Sprinkle with parmesan cheese, chopped chives and chopped parsley. Garnish with fresh herbs. Serve with dressing on the side. Serves 6 to 8.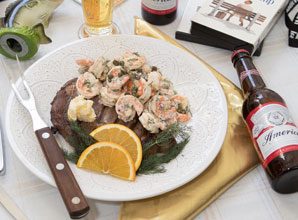 Gump's Surf and Turf
When Forrest and Bubba arrived in Vietnam, Lieutenant Dan offered them steaks and beer. The movie is Forrest Gump. You've gotta have some shrimp, too.
For the steaks:
4 boneless ribeye steaks
½ cup orange juice
½ cup soy sauce
½ cup red wine
For the orange butter:
4 tablespoons butter, softened
1 teaspoon orange juice
¼ teaspoon orange zest
For the orange-dill shrimp:
2 pounds medium shrimp, peeled and deveined
3 tablespoons finely chopped red onion
½ cup mayonnaise
2 tablespoons orange juice
1 tablespoon white wine vinegar
¼ cup minced fresh dill
Zest of a large orange 
3 tablespoons capers, drained
Salt and pepper, to taste
Fresh dill, to garnish
Orange slices, to garnish
Place steaks in a large zip-top bag with orange juice, soy sauce and red wine. Seal tightly and refrigerate for 4 to 8 hours. In a small bowl, mix softened butter with orange juice and orange zest. Divide into 4 equal portions on a piece of parchment paper; cover and refrigerate until ready to serve. Cook shrimp in boiling water until just pink. Drain and place in a medium bowl. Add red onion, mayonnaise, orange juice, vinegar, dill, orange zest and capers. Season with salt and pepper. Cover and chill for at least 3 hours. Bring shrimp to room temperature before serving. Grill steaks on the hottest part of the grill for 4 to 6 minutes. Flip steaks and grill for an additional 4 to 6 minutes, for a medium-rare steak. Remove steaks from grill and allow to rest for 5 minutes before serving. Top each steak with a piece of orange butter. Serve with orange-dill shrimp. Garnish with fresh dill and orange slices. Serves 4.
The writer owns Catering by Debbi Covington and is the author of three cookbooks, Celebrate Beaufort, Celebrate Everything! and Dining Under the Carolina Moon. Debbi's website address is www.cateringbydebbicovington.com. She may be reached at 525-0350 or by email at dbc@cateringbydebbicovington.com.