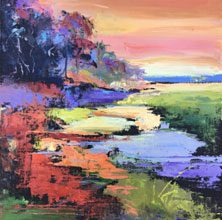 The next show at the Beaufort Art Association (BAA) Gallery will feature the work of ever-popular Lowcountry artist Tricia Gardner. The title of her show is "Coastal Color Unleashed," and will run from Feb. 25 to April 29. Both visitors and locals alike are immediately drawn to Tricia's expressive and exciting work. Her last show at the Gallery almost sold out. An artist's reception will be held at the Gallery at 913 Bay Street in Beaufort on Friday, March 2, from 5 – 7:30 p.m.
Best known for her atmospheric landscapes, Gardner's coastal scenes are filled with marshes, fishing boats and weathered buildings. She prefers painting in oil, but when traveling, or for expediency, acrylics or guache are the media of choice. Most recently, she has experimented with surface textures and inks. Her style is often referred to as abstract expressionism. Her focus is to capture the moment, the atmosphere and feeling of a place.
With studios in South Carolina and Maine, Gardner says it's all about daily breathtaking encounters with nature. Early morning coastal walks along the shoreline and marsh ignite her creative juices. And, salt air and sunrise are the catalysts for capturing the surreal.
"Kayaking adventures with fellow artists to the offshore islands in Maine, and paddling through the creeks and sounds of the Lowcountry feed the soul," she says, "and provide the inspiration for my energized landscapes. There is no substitute for painting outside in the moment (plein air), but the mind's eye is a powerful tool to recreate a lasting impression on canvas."
Travel offers the change Gardner needs to excite and energize her work. From the rugged
Irish coast to the majestic Mediterranean islands of Santorini and Sicily, she finds fishing villages and boats that beckon her to linger and enjoy.
Gardner's formal art training comes from studies at the Delaplane in Frederick, Maryland and the Loudoun Academy of Art and the Torpedo Factory, both in Virginia. She has taken workshops around the country and abroad with well known artists such as Wolf Kahn, Walt Bartman, James Kerr, Ron Ransom, Tony Van Hazlet, Russ Merrill, Charles Gruppe, and Bill Davidson. Besides receiving awards from local art shows, she also has been recognized in shows while living in Virginia and Maine. Her works are found in private collections across the United States, Europe, Australia and South America.
Originally from Southeastern Pennsylvania, Gardner graduated from Penn State University with a BS degree in Business Administration. She completed graduate studies at George Washington University and the State University of New York.
Early aspirations for a career in art were thwarted in her freshman year of college, when a professor advised her art class that they were not going to set New York on fire, and would, in fact, be starving artists. Hence, the change in curriculum, which led to an exciting thirty year career in Washington, DC working for government agencies in positions that afforded travel throughout the US and abroad. This was the spark that fueled Gardner's desire to capture the breathtaking scenes she does on canvas. Tricia lives on Dataw Island with her husband Lew, dogs Shadow and Winston, and a kitty named Beacon. Summers, they reside in Bayside on the coast of Maine, which, according to Tricia, "provides endless vistas to challenge the imagination and soothe the soul."
Besides Gardner's work, the work of other artists who are members of the Beaufort Art Association will be on exhibit, as well. Chartered in 1957, the Beaufort Art Association is a tax-exempt membership organization. Currently, about 175 local artists belong, with about 65 of them exhibiting their work in the Gallery. To find out more, go to www.beaufortartassociation.com, or call 843-521-4444.