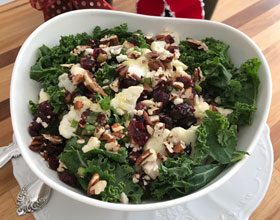 Baby, it's cold outside! Winter has arrived in Beaufort, SC. When the temperatures drop, I hibernate. Cooking soups and sweet treats are fun on cold days. On cold nights, I don't want to do anything except try to stay warm in front of a roaring fire. The recipes this week are great make-ahead dishes and they're comfort food.
The Cauliflower and Kale Salad is an interesting combination of flavors and textures. Slice the cauliflower and tear the kale instead of chopping them. The light lemon dressing helps break down the rough edges of the kale. The cranberries give the salad a bit of sweetness and the toasted pecans give it an added crunch. The French Onion Beef Casserole is comfort food to the max. It's beefy and noodley and creamy with the punch of fried onions on the top. The Caramel Cream Cheese Frosting on a packaged chocolate cake mix is fabulous! I got the idea from tasting the filling in a wedding cake last summer. It's super-rich and the perfect end to a delicious tummy-warming supper.
Cauliflower and Kale Salad with Cranberries and Pecans
1 small head cauliflower
4 cups torn curly kale
1/2 cup chopped green onions
1 cup dried cranberries
3 tablespoons extra-virgin olive oil
6 tablespoons lemon juice
Kosher salt and coarsely ground black pepper, to taste
1 cup chopped pecans, toasted
Cut the cauliflower into florets and then cut the florets into thin slices; place in a large bowl. Remove stems from the kale and tear into pieces; add to bowl. Add green onions and cranberries to bowl; toss to combine. In a small bowl, whisk together olive oil and lemon juice. Add the dressing to the salad and toss to combine; season with salt and pepper. Sprinkle with toasted pecans just before serving. Serves 6.
French Onion Beef Casserole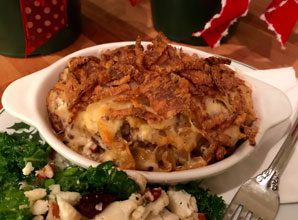 1 1/2 pounds lean ground beef (approximately 3 cups cooked)
1 (12-ounce) package wide egg noodles
2 (10.75-ounce) cans cream of celery soup
1 (15-ounce) jar french onion dip
1 (8-ounce) container chive and onion cream cheese spread
1 cup shredded swiss cheese
1 cup french fried onions
Cook and crumble ground beef in a large skillet over medium-high heat. Drain well on paper towels. Cook egg noodles in a large pot of water, according to package directions; drain. Preheat oven to 350 degrees. Spray a 9×13-inch baking dish (or individual ramekins) with non-stick spray. Combine soup, dip and cream cheese spread in a large bowl. Stir in ground beef and noodles. Pour mixture into prepared pan. Sprinkle with swiss cheese and top with fried onions. Bake, uncovered, for 25 to 30 minutes or until heated through. Serves 6 to 8.
Chocolate Cake with Caramel Cream Cheese Frosting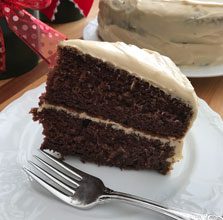 1 (15.25-ounce) package chocolate cake mix
1 (8-ounce) package cream cheese, softened
4 tablespoons butter, softened
1/2 (1-pound) package confectioner's sugar
2/3 cup caramel topping*
Preheat oven to 350 degrees. Grease and flour two 9-inch layer cake pans. Prepare cake mix according to package directions; spread mixture into prepared pans. Bake 25 to 30 minutes. Cool 5 minutes in pans; remove from pans and cool completely on wire racks. Combine cream cheese and butter with an electric mixer. Add in confectioner's sugar and caramel topping and continue mixing to combine. Refrigerate frosting for 15 minutes. Frost cake layer with chilled frosting. Refrigerate until frosting sets. Serves 10 to 12. *Caramel sauce is usually located in the ice cream cones and toppings section of your local grocery store.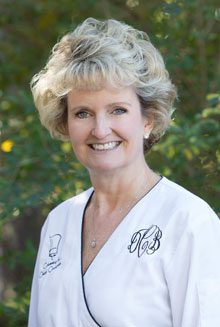 The writer owns Catering by Debbi Covington and is the author of two cookbooks, Gold Medal Winner of the Benjamin Franklin Award, Celebrate Everything! and Dining Under the Carolina Moon. Her NEW cookbook, Celebrate Beaufort will debut in April 2018. Debbi's website address is www.cateringbydebbicovington.com. She may be reached at 525-0350 or by email at dbc@cateringbydebbicovington.com.