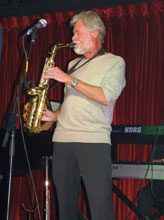 World-class jazz saxophonist Thom Chambers will headline Notes: An Evening of Musical Storytelling & Casual Conversation to benefit the Boys & Girls Club of Northern Beaufort County on January 12th. Known for his captivating showmanship, Thom will be joined by an ensemble of musicians for an entertaining night of jazz, local art, great food, drink . . . and, of course, casual conversation.
We recently had our own casual conversation with Thom Chambers . . .
LCW: Lots of Beaufortonians know you from Maggie's Pub, Panini'€™s, Winded It Up and other music venues around town. Where else have you'€™ve played that might surprise local readers?
TC: I play with my band in Florida at the New Smyrna Jazz Festival every September. We did the Montreux Jazz Festival in Switzerland three times. I play with my band in Greenville at the Fall for Greenville event. Also I play often at Blues Blvd in Greenville. My percussionist lives there and runs Blues Blvd. We toured in the 90'€™s and opened for many smooth Jazz groups. We did Jazz Cruises with the Rippingtons, Kirk Whalum, Paul Taylor, among others. Did a jazz festival in Eureka Springs Arkansas the weekend after 9/11. Because flying was so difficult just parts of each band made it. So I got to play with Ramsey Lewis'€™s rhythm section and Tuck and Patti among others. That was quite a weekend. I play and record in London with singer Damian O'€™Shea. I'€™ve played with the Miami Sound Machine . . . opened for Earth, Wind and Fire, and Chris Botti . . .
LCW: What is it about jazz?
TC: What it is about jazz is improvisation. The fact that we compose on the spot. Unlike classical music (which I love to play), jazz allows the performer to actually compose while we play while classical music is somebody else'€™s music that we just read. I have had many long conversations with friends who are classical musicians that just think we are just making up stuff as we go along. That is far from what we do as jazz musicians. We have to know totally about what notes work with which chords. Just as a classical composer does when he or she writes music.

LCW: How do you see the future of jazz?
TC: The future of jazz can only get better. Jazz is now accepted as a true music form in Colleges. Many colleges now offer jazz degrees, which was not the case when I went to college. I have seen jazz become the new classical music. And jazz is truly an American music.

LWC: Who are some of your most important musical influences?
TC: Bach, Mozart, Beethoven, Mahler, John Cage, Phillip Glass, Miles Davis, John Coltrane, Charlie Parker, Paul Desmond. The Beatles, Emerson Lake and Palmer, Sting, Radio Head, The Stones, The Who, Tower of Power. Really any music that is done well. Even good country, bluegrass, etc.
LCW: What are you listening to these days?
TC: Acid jazz, space music, electronic music and free form music. And of course I still listen to the great jazz and classical music.

Notes: An Evening of Musical Storytelling is Friday, January 12th at 6 pm at Tabby Place in downtown Beaufort. The evening will be catered by Saltus River Grill, and original art will be on display for auction. Sponsorships and group packages are available, and seating is limited. Tickets are $75. For sponsorship information or to purchase tickets, please call the Boys & Girls Club office at 843-379-5430 or email alittlejohn@bgclowcountry.org