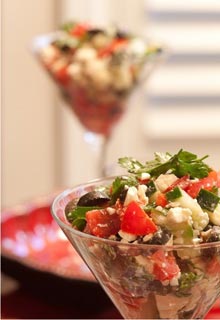 You don't have to live in the South to practice the tradition of Southern hospitality! It's true that much of the South has grown and changed but a warm welcome is a Southern tradition that remains. Intimate dinner parties are a gracious way to entertain. We don't really need an excuse to celebrate, do we? Celebrate Everything!  The recipes this week are from my award-winning cookbook Celebrate Everything! with Photography by Paul Nurnberg.

Shepherd's Salad
Finding the recipe for this salad was a serendipity! It's fabulous! Serve it in martini glasses –just for fun.

2 tablespoons cider vinegar
2 tablespoons lemon juice
3 tablespoons olive oil
3 medium tomatoes, seeded and chopped
2 cucumbers, seeded and chopped
1 bunch Italian parsley leaves,  picked not chopped
½ cup sliced black olives
8 ounces feta cheese, crumbled
Sea salt
Freshly ground black pepper
3 teaspoons capers

In a small bowl, whisk together cider vinegar, lemon juice and olive oil. In a large bowl, toss tomatoes, cucumbers, parsley and olives together. Add vinaigrette; toss gently to coat. Let sit at room temperature for 30 minutes to allow flavors to develop. Add feta cheese and toss again just before serving.  Season with salt and pepper. Garnish with capers. Serves 6.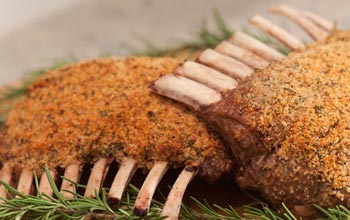 Mustard-Coated Rack of Lamb
Cooking rack of lamb is very simple, allowing you gourmet appeal without a lot of work. And, the lamb can be prepared almost completely in advance and then finished in the oven just before serving. The secret is browning the racks of lamb on all sides ahead of time. Then all you need to do is brush the racks with some Dijon mustard and press on a tasty coating of seasoned fresh breadcrumbs. The lamb can be prepared ahead in the day and then brought to room temperature before roasting.

½ cup dried breadcrumbs
4 cloves garlic, minced
2 tablespoons chopped fresh rosemary
Sea salt
Freshly ground black pepper
4 tablespoons olive oil, divided
2 (6 to 7 bone) frenched racks of lamb, well-trimmed
¼ cup Dijon mustard

Position rack in center of oven. Preheat oven to 425 degrees. Combine breadcrumbs, garlic and rosemary in a bowl. Season with salt and pepper. Stir in 2 tablespoons of olive oil. Set aside. Season lamb racks all over with salt and pepper. Heat remaining 2 tablespoons olive oil in a large, heavy, oven-proof skillet over medium-high heat. Sear lamb for 1 to 2 minutes on all sides. Set aside to cool. Brush lamb racks with the mustard. Press breadcrumb mixture evenly on the meaty side of the racks. Cover the ends of the bones with foil and place bone-side down in the skillet. Roast for 20 to 25 minutes or until internal temperature reaches 125 degrees with an instant-read thermometer. Let rest for 5 minutes before serving. Serves 6.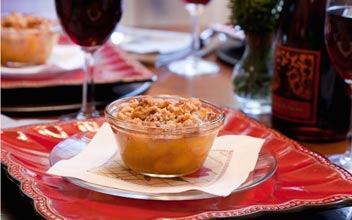 Individual Toffee, Pecan and Peach Crisps
The nutty, crunchy topping makes a nice contrast to the juicy peach filling.

6 cups frozen, sliced peaches, thawed (about 2½ pounds)
3 tablespoons sugar
1 tablespoon fresh lime juice
¾ cup all-purpose flour
1/3 cup (packed) brown sugar
¼ teaspoon salt
6 tablespoons unsalted butter, chilled and cut into pieces
½ cup English toffee bits
½ cup pecans, coarsely chopped

Preheat oven to 350 degrees. Place 8 ramekins or custard cups on a large baking sheet. Mix peaches, sugar and lime juice in a large bowl to blend. Divide filling among ramekins. Whisk flour, brown sugar and salt in a large bowl to blend. Using fingertips, rub in butter until mixture holds together in clumps. Stir in toffee and pecans; sprinkle over filling. Bake crisps until filling bubbles and topping is golden brown, about 30 minutes. Cool for 5 minutes. Serve warm. Serves 8.
The writer owns Catering by Debbi Covington and is the author of two cookbooks, Gold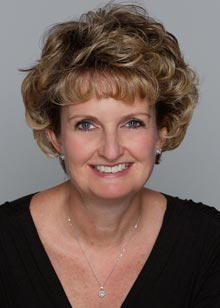 Medal Winner of the Benjamin Franklin Award, Celebrate Everything! and Dining Under the Carolina Moon.  Debbi's website address is www.cateringbydebbicovington.com. She may be reached at 525-0350 or by email at dbc@cateringbydebbicovington.com