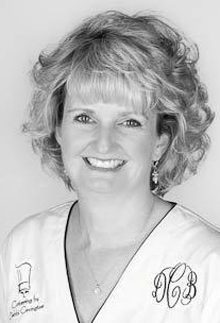 May is the perfect month for dining al fresco in Beaufort! The steamy heat isn't quite as oppressive as it's going to be in the ultra-hot summer months of June, July and August. We still have a few more weeks to dine outside in the fresh air. Why not take advantage of this great weather to host a delicious brunch in your garden?
Our menu starts off with a wonderful Chilled Blueberry Soup that is garnished with fresh mint. Polenta Mascarpone with Tomato Sauce is a great meatless entree! Creamy polenta is topped with sauteed grape tomatoes, garlic, and fresh basil and is a perfect dish to serve for brunch, lunch or dinner. Brown-Sugar Bacon will please the meat-eaters and adds just the right touch of salty and sweet to the meal. Serve the brunch with fresh orange juice and Vanilla-Almond Coffee and enjoy this leisurely meal under a shady magnolia tree.
Chilled Blueberry Soup
4 cups blueberries
½ cup orange juice
Dash allspice
Dash freshly grated nutmeg
4 cups plain yogurt
Fresh mint
Blend blueberries, orange juice, allspice, and nutmeg in a blender on low speed. Chill, covered, in the refrigerator. When ready to serve, ladle into tea cups and spoon yogurt into the center of each. Garnish with fresh mint. Serves 8.

Polenta Mascarpone with Tomato Sauce
For the Polenta:
4 cups chicken broth
1 cup polenta
8 ounces mascarpone cheese
Salt
Freshly ground black pepper
Bring chicken broth to a boil in a large skillet over medium-high heat. Whisk in the polenta and cook until thickened, according to package directions. Stir in the cheese and season to taste with salt and pepper.
For the Tomato Sauce:
2 teaspoons olive oil
2 pints grape tomatoes, rinsed and dried
1 teaspoon minced garlic
Salt
Freshly ground black pepper
1 (14.5-ounce) can chicken broth
½ cup fresh basil leaves, cut into thin strips
Freshly grated Romano cheese
Heat a large skillet over medium-high heat. Add the olive oil and grape tomatoes. Saute 2 minutes. Add the garlic. Season with salt and pepper and saute until the skins of the tomatoes begin to pop, about 3 to 5 minutes more. Add the chicken broth, bring to a boil. Turn off the heat and stir in the basil. Stir well to combine and serve immediately over the polenta. Garnish with grated Romano cheese. Serves 6.

Brown Sugar Bacon
1 pound sliced bacon, room temperature
1 cup light brown sugar
Preheat oven to 350 degees. Pat each bacon slice in brown sugar, coating well. Place individual slices on an ungreased baking sheet. Bake for 30 minutes or until bacon is cooked. Remove bacon and drain on baking racks. Do not drain on paper towels. Bacon will become crispy as it cools. Serves 4 to 6.

Vanilla-Almond Coffee
½ cup whole Colombian coffee beans
4½ cups water
½ teaspoon ground nutmeg
2 teaspoons vanilla
1 teaspoon almond extract
Cream
Sugar
Place whole coffee beans in a coffee grinder; process to a medium grind. Place ground coffee beans in coffee filter or filter basket; sprinkle with nutmeg and flavorings. Add water to coffee maker and brew. Serve with cream and sugar to taste. Serves 4.

The writer owns Catering by Debbi Covington and is the author of two cookbooks, Celebrate Everything! and Dining Under the Carolina Moon. Debbi's website address is www.cateringbydebbicovington.com. She may be reached at 525-0350 or by email at dbc@cateringbydebbicovington.com.