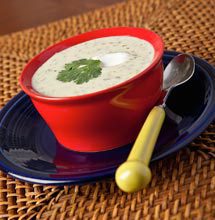 What's better on a blustery winter day than a bowl of steaming hot soup? Correct answer? Nothing's better. These unseasonably cold days in Beaufort, SC have left me chilled to the bone. I guess I'm used to working in a warm kitchen over a hot stove.
Lately, creating new soups has become my favorite pastime. Vince and I sample each new recipe and then I freeze the leftovers in single-serving containers in anticipation of the even colder days we'll be experiencing in January and February. The soup recipes this week will will warm your tummy and your heart.
Cream of Cilantro Soup (above)

Cilantro is a fresh herb with a lively, pungent flavor. It can be found year-round in most supermarkets and is generally sold in bunches. Cilantro may be stored for up to a week in a plastic bag in the refrigerator. Both the leaves and tender stems can be used in fresh or cooked dishes.
1 bunch fresh cilantro
4 cups chicken broth, divided
2 tablespoons butter
2 tablespoons all-purpose flour
1 (8-ounce) package cream cheese, softened
1 cup container sour cream
1 garlic clove, minced
¼ teaspoon salt
¼ teaspoon ground red pepper
¼ teaspoon ground cumin
Fresh cilantro sprigs, to garnish
Sour cream, to garnish
Remove the long stems from cilantro and coarsely chop leaves. Process cilantro and 1 cup chicken broth in a food processor until blended, stopping to scrape down sides. Melt butter in a Dutch oven over medium heat; whisk in flour. Gradually add remaining 3 cups broth, whisking constantly until mixture is smooth. Increase heat and boil 1 minute. Stir in cilantro mixture, cream cheese, sour cream, garlic, salt, ground red pepper and cumin; simmer soup for 10 minutes. Garnish with fresh cilantro and sour cream.  Serves 4 to 6. (Photography by John Wollwerth)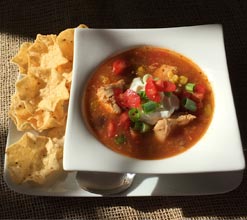 Chicken Enchilada Soup

2 (14.5-ounce) cans chicken broth

1½ pounds boneless, skinless chicken breasts, cut into bite-sized pieces
Salt and black pepper, to taste
1 clove garlic, minced
1 medium onion, finely chopped
1 (15.25-ounce) can black beans, rinsed and drained
1 (10-ounce) can Rotel tomatoes with green chiles
1 (15.25-ounce) can corn, undrained
1 (.1-ounce) package taco seasoning
1 (4.5-ounce) can chopped green chiles
½ teaspoon cumin
½ teaspoon oregano
¼ cup ketchup
Fresh lime wedges
Sour cream, to garnish
Chopped green onion, to garnish
Diced tomatoes, to garnish
Shredded cheddar cheese, to garnish (optional)
In a large stockpot, bring chicken broth to a boil. Season raw chicken with salt and pepper. Add chicken, garlic and onion to hot chicken broth. Reduce heat to medium and poach until chicken is cooked through. Stir in black beans, tomatoes, corn, taco seasoning mix, green chiles, cumin, oregano and ketchup. Heat through, stirring often. Ladle hot soup into individual bowls. Squeeze a wedge of lemon over the soup just before serving. Garnish with sour cream, green onions, tomatoes and cheddar cheese, if desired. Freezes beautifully.
Creamy Red Pepper Soup with Croutons

Mascarpone cheese is an Italian double cream cheese made from cow's milk. It's buttery-rich, soft and delicate and is the texture of clotted cream.
2 tablespoons olive oil
2 onions, chopped
2 carrots, peeled and chopped
3 garlic cloves, chopped
2 teaspoons chopped fresh thyme leaves
6 cups vegetable or chicken broth
2 (12-ounce) jars roasted red bell peppers preserved in water, drained
1 medium red potato, peeled and coarsely chopped
½ cup dry white wine
1 tablespoon sugar
Salt
Freshly ground black pepper
½ cup mascarpone cheese
Croutons, to garnish
Heat 2 tablespoons olive oil in a heavy, large pot over medium-high heat. Add the onions, carrots, garlic and thyme and saute until the onions are translucent, about 5 minutes.  Add the broth, bell peppers, potato, wine and sugar. Bring to a simmer over high heat. Decrease the heat to medium-low. Simmer, uncovered, until the potatoes are very tender, stirring occasionally, about 30 minutes. Cool the soup slightly.  Process the soup in batches in a food processor or blender. Return the soup to pot; warm through and season with salt and pepper, to taste. Ladle the soup into bowls. Dollop a tablespoon of mascarpone in the center of each bowl and top with croutons. Sprinkle with black pepper and serve. Serves 8.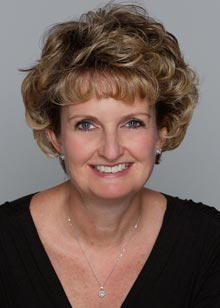 The writer owns Catering by Debbi Covington and is the author of two cookbooks, Gold Medal Winner of the Benjamin Franklin Award, Celebrate Everything! and Dining Under the Carolina Moon.  Debbi's website address is www.cateringbydebbicovington.com. She may be reached at 525-0350 or by email at dbc@cateringbydebbicovington.com.