Weddings are so much fun and offer a zillion reasons for pre-nuptial parties. Do you like to dress up in pearls and heels? If so, then this menu has been tailored just for you.
A tea party is a great function for a bridesmaid's event, a wedding shower or even a thank you to the people who have helped you plan and organize your wedding. Very simple to prepare and execute, an afternoon tea can be as casual or as elegant as you desire.
I love every opportunity that I have to pull out my collection of assorted china tea cups and my mother's silver tea service. You may prefer ceramic mugs and earthenware dishes. The details are up to you. These are some of the most requested items from my tea party menu along with a couple of my personal favorites. Every recipe is easy to make and can be prepared in advance. Most importantly, have a good time with your friends. Enjoy every single pre-wedding event that you host or attend. This is such a special time in your life and the beginning of a new adventure with the man you love. Be happy! (Photography by Susan DeLoach)
Cranberry Tea
Brewing a pot of tea can be a pleasure! It's a comforting circle of ritual and tradition – and the opportunity to hold and handle your great-grandmother's precious china cup and saucer.


8 cups water
2 cinnamon sticks
5 whole cloves
2 cups pineapple juice
2 cups cranberry juice cocktail
4 tea bags
1¾ cups water
½ cup brown sugar
Bring water to a boil. Add cinnamon and cloves. Simmer for 15 minutes. Remove from heat, add tea bags; steep for 15 to 10 minutes. Remove tea bags, cinnamon, and cloves. Add juices and sugar. Heat until warmed through. Do not boil. Serve hot. Serves 10 to 12.
Ham and Cheese Party Sandwiches
These yummy sandwiches are perfect for almost any party!
24 King's Hawaiian Rolls or Pepperidge Farm Party Rolls
1 pound sliced ham
1 package sliced Swiss cheese
1/3 cup mayonnaise
½ cup butter, melted
1 tablespoon poppy seeds
1 tablespoon Dijon mustard
1 tablespoon minced onion
½ teaspoon worcestershire sauce
Preheat oven to 350 degrees. To assemble each sandwich: spread mayonnaise onto each side of the opened roll, add a slice of ham and a slice of Swiss cheese. Fold ham and cheese into smaller pieces to fit. As you assemble the sandwiches, place them in a lightly greased glass baking dish. Sides of the sandwiches will touch each other. Place melted butter, poppyseeds, mustard, onion and worcestershire sauce in a small bowl; mix well to combine. Pour the butter mixture evenly over the sandwiches and bake for 12 to 15 minutes. Serve warm. Serves 24.
Brie and Sun-Dried Tomato Tartlets
The yummy filling for these tartlets can also be used as a baked dip served warm with cocktail crackers.  (pictured at top of page)
16 ounces brie
2 teaspoons minced garlic
1 teaspoon fresh thyme leaves
1 cup sun-dried tomatoes, packed in oil, drained and chopped
2 packages frozen filo tart shells (15 per package)
Fresh thyme, to garnish
Remove rind from brie and cut into small pieces. Place brie in a medium bowl. Add garlic, thyme and sun-dried tomatoes. Mix to combine. Fill each filo shell with cheese mixture. Place filled tartlets on a lightly-greased baking sheet and bake in a preheated 350 degree oven for 10 to 12 minutes or until cheese is melted. Garnish with fresh thyme. Serve warm. Makes 30.

Blueberry Tart
If blueberries aren't in season, substitute 1½ cups of your favorite sliced apples.
1 refrigerated pie crust
2 cups fresh blueberries
¼ cup sugar, divided
Dash ground cinnamon
1 egg, beaten
2 tablespoons butter, cut into small pieces
Whipped cream
Fresh mint
Unroll pie crust and place on a lightly greased baking sheet. Sprinkle pastry with 1 teaspoon sugar. Place blueberries in center of pie crust. Sprinkle with remaining sugar, reserving 1 teaspoon. Sprinkle lightly with ground cinnamon. Fold up sides of pastry about 1½ inches from the edge to encase berries. Brush edge of crust with beaten egg. Sprinkle remaining teaspoon sugar over the entire tart. Dot with pieces of butter. Bake in a preheated 425 degree oven for 20 to 25 minutes or until crust is golden brown. Remove from baking sheet and cool on wire rack to prevent bottom of tart from becoming soggy. Cool completely before serving. Serve with whipped cream. Garnish with fresh mint leaves. Serves 6.
The writer owns Catering by Debbi Covington and is the author of two cookbooks, 2013 Gold Medal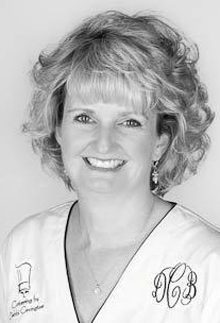 Winner of the Benjamin Franklin Award, Celebrate Everything! and Dining Under the Carolina Moon. Debbi's website address is www.cateringbydebbicovington.com. She may be reached at 525-0350 or by email at dbc@cateringbydebbicovington.com