Sunday afternoon was a first for me. I've eaten more than my fair share of bacon, lettuce and tomato sandwiches over the years, but I'd never been invited to a straight-up BLT social. Courtesy of Kirk and Elaine Dempsey, the festivities began at 5:30 in the afternoon with a baker's dozen in attendance. Over the years, we'd all purchased produce from the farm stand at Dempsey Farms on St. Helena Island. This time however, we were invited into Kirk and Elaine's home, a lovely old farmhouse with pine-paneled walls, antique furniture, old-school dishware and Dempsey family history. My Daddy's family were farmers, so I have many fond memories of freshly picked tomatoes, corn, cucumbers, peas and beans that were served on my Granny's kitchen table. For me, it was like going back in time. Back in time to full green fields with a soft, cool breeze wafting in the hot summer air. Truly glorious. Kirk must have cooked 20 pounds of bacon. Elaine had sliced at least a dozen blood red ugly/heirloom tomatoes that she had picked straight out of the field in their front yard. Fresh steamed corn still in their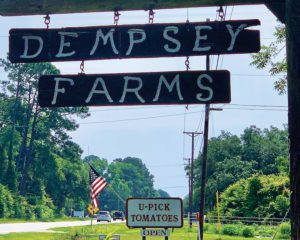 husks were waiting to be devoured in a big pot on the back of the kitchen stove. Pièce de resistance for me was Elaine's Refrigerator Pickles. When I was little girl, my brother and I used to slice cucumbers and soak them in vinegar in an attempt to replicate my Aunt Hester's sour pickles. Elaine's version brought back a flood of happy memories. And, when asked to share her recipe, she was more than happy to comply. Always eager to learn new recipes and techniques for preparing food, my time at Dempsey Farms was quite enlightening. Elaine and Kirk, our very gracious BLT social hosts, are the inspiration for the recipes in this issue. Fresh is always best. If you can buy vegetables straight from the farm, please do. Support our local farmers.
"Let us not forget that the cultivation of the earth is the most important labor of man. When tillage begins, other arts follow. The farmers, therefore, are the founders of human civilization." – Daniel Webster
Classic Bacon, Lettuce and Tomato Sandwiches
This BLT isn't fancy but it certainly is delicious! Use your favorite mayonnaise — Duke's, Hellman's or even Miracle Whip. (Don't quibble. We'll have the mayonnaise debate some other time.)
1 pound bacon
8 slices white bread
Mayonnaise
Iceberg lettuce
Ripe tomatoes, cut into ½-inch thick slices
Salt and pepper
Cook bacon in a heavy skillet until browned and crispy. Drain well on paper towels. Spread mayonnaise on 4 slices of bread. Arrange bacon, lettuce and tomato slices on top. Season tomatoes with salt and pepper. Spread mayonnaise on 4 remaining slices of bread and cover to make sandwiches. Serves 4.
Elaine's Refrigerator Pickles
Elaine says that the smaller pickling cucumbers are best for this recipe. When they're out of season, other varieties of cucumbers will work just fine. She also recommends using Vidalia onions.
3 cups sliced cucumbers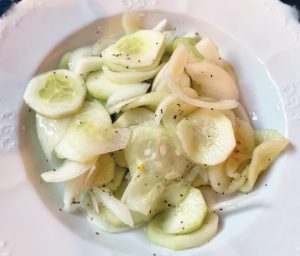 3 small onions, thinly sliced
1 cup white vinegar
1 cup water
1 cup sugar
1 teaspoon salt
2 teaspoons celery seeds
Peel cucumbers before slicing into thin rounds. Place cucumbers and sliced onions in a large bowl. Mix vinegar, water, sugar, and salt in a small bowl until sugar and salt are dissolved. Add celery seeds. Pour vinegar mixture over cucumbers and onions. Cover and refrigerate for at least 24 hours. (48 hours is better.) Pickles will keep for 2 to 3 months in the refrigerator. The recipe is easy to double or triple and great to share with friends.
Kirk's Steamed Corn on the Cob
The secret for cooking corn on the cob perfectly every time is easier than you might think. Leaving the husks on the corn gives it the best flavor and moisture content and the silk comes right off – it's amazing. Kirk has steaming corn down to an art form. He likes to cut the ends off of each ear before cutting them in half and placing them in the steamer basket.
6 to 8 ears of fresh corn, unshucked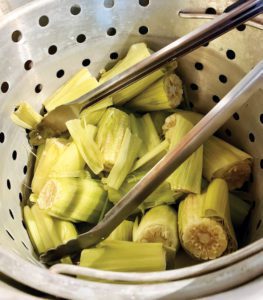 Fill a large stockpot with 1½ to 2 inches of water, just enough to reach under the steamer basket that you will be using. Bring the water to a boil. Arrange corn in steamer basket, add to pot and over with a lid. Cook for 14 minutes. Remove pot from heat, uncover and release steam. Use long tongs to remove corn. Husks and silk will come off easily; remove any remaining strands. Season with butter, salt and pepper; if desired. Serves 8 to 10.
The writer owns Catering by Debbi Covington and is the author of three cookbooks, Celebrate Beaufort, Celebrate Everything! and Dining Under the Carolina Moon. For more great recipes and to view her cooking demonstrations, visit and subscribe to Debbi's YouTube channel. Debbi's website address is www.cateringbydebbicovington.com. She may be reached at 843-525-0350 or by email at dbc@cateringbydebbicovington.com.