By Catherine Stewart
George Orwell is most famous for 1984, his dystopian novel, but he also is known for having said "All writers are vain, selfish and lazy, and at the very bottom of their motives lies a mystery. Writing a book is a long, exhausting struggle, like a long bout of some painful illness. One would never undertake such a thing if one was not driven by some demon whom one can neither resist nor understand."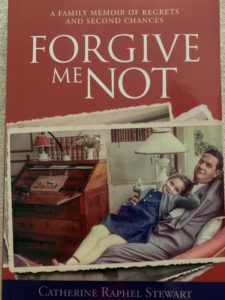 My writer's "career" began when I was just seven years old, as I was relishing a storybook life in the south of France. For reasons I cannot recall after seven decades, I wrote a short story about a young French girl who emigrated to America with her parents. Three years later my parents went to America, leaving my sister and me with relatives for ten months.
Some forty years after penning that first story, my husband David and I joined my parents who were vacationing in the South of France. We were staying at my aunt's castle in Provence where we enjoyed a serious dose of champagne, magnificent food and lively entertainment. That's when I realized our family was unique and we had a story worth telling.
Initially my goal was to write a family story so my children and grandchildren would learn about their ancestors who were brave enough to go to a foreign country. My parents were thrilled I was interested in their families and began sending me long letters of information. This was in 1994 and through those letters I finally learned the real story behind their move to America.
Although I had often heard the word "faillite" mentioned at home, I never cared about what it
meant. My father's letters finally revealed he had lost his perfume business almost overnight and had to declare bankruptcy. But he didn't just lose his business; he also lost his profession. He and my mother went to America out of desperation, not by choice. The perfume business in France was so cut-throat then, my father often referred to his competitors as "the perfume Mafia" who were proud of putting their competitors out of business.
It occurred to me that in addition to writing about the timely immigration issue, I could also build a story around the downside of being born wealthy and feeling entitled, but not considering the possibility of unintended consequences. My parents and I exchanged letters for a couple of years but then life got in the way. Although I had a rough story outline and a first chapter, I had to put this project aside for the next 24 years to continue earning a living.
In 2011 my husband and I retired and moved to Beaufort – drawn to the Low Country because it reminded me of the South of France. Fast forward to 2020; the year of Covid, masks and lockdowns. All of my volunteer activities were on hold and I was hungry for something to do. I pulled out my parents' letters and decided NOW I must write this book.
What started as a "family history" about my parents moving to a foreign country, with no job and $600, took shape around the theme of regrets and second chances. The more I wrote about my father's foolishness and lack of business sense, the more I realized how similar his and my path had been. He had it all –money, connections and a successful profession–yet he was incredibly naïve in his business dealings. In addition, his focus was mostly on making money and having fun.
Within a few months, I had written ten chapters. By this point in the book, my parents had settled in a small town in New York State. Dad had regained his perfumer's profession and two more children completed our family. Everything had worked out even better than we had hoped. There was even enough money for all of us to go back to France for a vacation.
During that vacation, I adopted my father's focus on having fun, regardless of the consequences. This provided another timely theme in our family's story – the unintended long term consequences of ending a life.
Writing is hard, regardless of whether it's fiction or non-fiction. The only thing easy about writing a book today is the endless list of "publishers" hungry to take your money. I did my research, took a Great Course in "How to publish a book," and joined a local writers' group. I chose a self-publishing firm aligned with Simon & Shuster because I figured they would be more professional. Yet I never considered that a memoir is fraught with law suit potential. I learned it's perfectly fine to trash people once they are dead (and can't defend themselves) but it's not allowed for those still living (or presumed still alive). My publisher requested a list of all characters and their living/dead/presumed living status. Then they asked for signed and certified letters of approval from three family members, confirming they were fine with the content. Finally, the publishers demanded that all characters in the "presumed living" be given fictitious names, turning my totally true story into a "fictionalized memoir." During this part of the publishing process, I nearly walked away from the whole project but then decided if my parents were brave enough to come to America with nothing, I should get the book done.
Forgive Me Not became available on Amazon in November 2021 and to date has been read by people on three continents – North and South America, and Europe. The comments from a variety of readers – young and old; men and women – have been very encouraging. Many enjoyed reading about our story-book life in France, and the celebrities we knew. Others confessed they too had long term regrets and were awed by my abject honesty.
One of my regrets is not having finished the book before my parents died. My biggest regret, and the source of my demon, is clearly identified in the last several chapters.
Forgive Me Not is available on Amazon, or email the author for a signed copy: stewart.cat@gmail.com