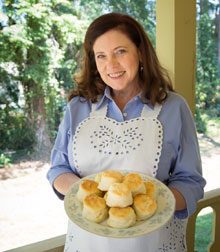 Southern Living, the Pat Conroy Literary Center, and Anchorage 1770 Inn are excited to announce the first Cook The Book: Sharing Recipes, Wine & Words, a special event to be held Saturday, May 19, from 4-9 pm at the Anchorage 1770 (1103 Bay St., Beaufort, SC). The inaugural Cook the Book will be presented by renowned southern chef Cynthia Graubart, and will focus on recipes from her recent cookbook Sunday Suppers (2017).
                        The event has three components: Cynthia will give a cooking demonstration of three recipes from Sunday Suppers assisted by Anchorage chef Byron Landis, followed by a book and apron signing with wine and appetizers on the veranda, and culminating with a four-course dinner complete with hand-selected wine pairings in the dining room.
                  This new venture was inspired by Pat Conroy's passion for cooking and his perennial search for a new recipe. Pat opens his 2004 cookbook with the words, "The subject of food is nearly a sacred one to me." His lifelong passion for cooking was first ignited in 1969 and only became more intense as he grew older. Many of his readers are familiar with another quote from his cookbook, "a recipe is a story that ends with a good meal."
                  Cynthia Graubart is an ideal chef to launch the new Cook the Book series, which celebrates foodways, writing, and fellowship. When Pat first began cooking in earnest, he turned to Cynthia's husband Cliff for guidance. It was 1969 and Pat's first wife had appointed him family chef. He ventured to the Old New York Bookshop in Atlanta, asking for Graubart's help. According to Pat's recollections, Cliff, fearing the Conroy clan demise by starvation, handed Pat an edition of Auguste Escoffier's cookbook. And so Pat's culinary adventures began, and he became the epicurean 'magician,' the soup 'sorcerer,' turning "the art of stealing recipes into both a hobby and an art."
                  Cynthia's newest cookbook, Sunday Suppers extols the virtues of the Sunday supper. She says the Sunday 'supper' was different from the Sunday 'dinner,' a little less formal, but always just as comforting because it's always about family time spent at the dining table. In her preface, Cynthia explains succinctly and lovingly, "Family mealtime is heralded by educators, clergy, and grandmothers as an important part of a child's growth and development."
                  Anchorage Chef Byron Landis, who will be assisting with the cooking demonstration and meal preparation, concurs. "Food is important to not only physical sustenance, but also spiritual and emotional nourishment. The stove is the hearth, the table the gathering place. I learned that growing up in a family that had a catering business."
                  Cynthia Graubart is a James Beard Award-winning cookbook author, former cooking show television producer, and most-recently the author of her 8th cookbook, Sunday Suppers for Oxmoor House (November 2017). Named a Georgia Grown Executive Chef for 2017, she shares her passion for her home state and its bountiful produce and products with her audiences across many platforms, including recipe development for the nationwide Atlanta-based meal kit service PeachDish. A frequent guest chef, private event chef, and personal chef, she brings a taste of the south to every dish she creates and serves, and joined her fellow Georgia Grown Executive Chefs to cook at the James Beard House in June 2017. She and Nathalie Dupree wrote the best-selling (and James Beard Award winning) Mastering the Art of Southern Cooking (Gibbs-Smith 2012). Cynthia received a M.F.K. Fisher Food Writing Award for the introduction to Chicken: A Savor the South Cookbook (2016) and is a member of Les Dames d'Escoffier.
                  Byron Landis' culinary career began as an apprentice chef in Overland Park, Kansas, where he logged 6,000 hours of experience. From there he honed his skills at Kansas social clubs, including Kansas City's esteemed Carriage Club. He was then sous chef at Hilton Head's Long Cove Club before joining the team at the Anchorage 1770.
                  Cook the Book has been selected as a Southern Living Inspired Event. Tickets are $150 and include all food and wine, and the signed cookbook and apron. Make your reservations by May 15 by calling 843-525-1770. Space is limited to 40 attendees.
                  The next Cook the Book event will be Saturday, September 29, and will feature local caterer Debbi Covington and recipes from her cookbook Celebrate Beaufort (2018).