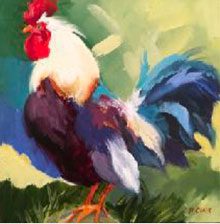 The Society of Bluffton Artists' (SoBA) is raffling off "Morning Melody," a 12 x 12 inch oil painting created by nationally renowned American wildlife painter Linda St. Clair.
The painting is priced at $1,400. St. Clair served as the judge for SoBA's recent Annual Judged Show in which more than 100 local artists submitted their artwork. She offered the painting to SoBA to be used as a fundraising opportunity for the non-profit art organization's after school program for children.
Raffle tickers are $20 and are available at the SoBA gallery on Church Street in Old Town Bluffton. The public is encouraged to purchase as many raffle tickets as they like. The tickets are on sale until May 20th.
Most of St. Clair's paintings are completed in one sitting at her studio in Santa Fe. To get a clearer perspective of an animal's spirit, she travels frequently to find and photograph them. She has traveled to the North Pole to study Polar Bears, Africa to observe elephants and zebras, and Yellowstone National Park to watch grizzly bears. Locally, she is represented by The Red Piano Art Gallery.
SoBA is the flourishing art hub in Bluffton's historic District at the corner of Church and Calhoun streets. SoBA offers regular art classes, featured artist shows, exhibitions and more. Please visit www.sobagallery.com for a complete calendar of events and other information or call 843-757-6586.