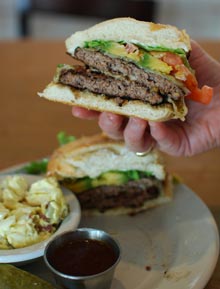 Our quest for the Lowcountry's best handmade burgers takes us to Plums...

"Anybody who doesn't think that the best hamburger place in the world is in his hometown is a sissy."
– Calvin Trillin, The New Yorker
When I was a kid the concept of "fast food" was still barely in its infancy – in fact, it wasn't even out of the cradle. The Golden Arches had yet to lead the fast food conquest of America (much less the rest of the globe). Towering corporate logos were still years away from gathering in ubiquitous clusters at every interstate exit. The American Hamburger was still something we ordered at hometown diners.
It was the reason dad fired up the grill on the weekends. My own hometown burger joint's still the leading cause of lunch period truancy at the nearby high school and has been for half a century. And my mouth still waters at the thought of my dad's Saturday night burgers – plump slabs of beef seasoned with Worchester sauce, crowned with real cheddar cheese oozing out of the bun.
The Old Man, being farm raised, used to fill a stand-up freezer twice a year with local grass-fed beef
raised and slaughtered just a few miles from where it was consumed.
On special trips out of our small town, my sister and I would beg for the stuff the networks sold during Saturday morning cartoons, hawked by kid-friendly clowns and kings – a marketing strategy I still find deeply insidious. The clown still creeps me out. And each time we were indulged, I always felt vaguely cheated sitting there in the molded plastic swivel chair with my complimentary paper crown. After Dad's burgers I knew they were hiding something under all that "special sauce." Don't get me wrong. I've had good burgers at chain stores and I've had more than a few that couldn't be classified simply because I didn't have access to a forensics lab and the wherewithal to determine what they really were.
Which brings us back to Mr. Trillin's concept of the Great American Hometown Hamburger, a tradition reborn and booming according to just about every culinary website, blog and publication in the land, including this one. And while we're mustering our forces for a march south across the Broad (be forewarned!), we've got a few stops yet along the way, including one of downtown Beaufort's longest running culinary attractions.
INTELLIGENT LIFE IN THE BURGERVERSE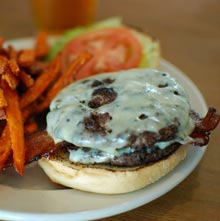 Plums has been popular with locals and tourists alike since 1986, and the restaurants famous soups have been scratch made every day for 25 years. Any restaurant still packing them in at every meal for a quarter of a century is doing something right – really right. A recent update and overhaul added a raw bar on Bay Street where we gather at the long plank table to sample the burgers.
A BRIEF DISCLAIMER (Okay, it's a confession)
The state-of-the-art, high tech Lowcountry Weekly offices overlook the restaurant's rooftop. We eat here a lot. In fact, we could simplify things quite a bit if we could convince owner Lantz Price to install a rooftop entrance with a firehouse pole down to "special seating." Really. We could work something out. But as usual, I digress.
So, Plums is three steps away. That makes it convenient, sure, but the real draw is the food – with an emphasis on fresh, local and seasonal. The dinner crowd comes for fresh seafood, pasta and steaks. The lunch menu is all about the soups, salads and sandwiches. Plums burgers are unique in the downtown area. "It's kind of like Five Guys style," says Chef Josh Castillo, "with the two patties you get more flavor from the beef and the toppings."
Each burger starts with two quarter pound ground chuck patties served with the rest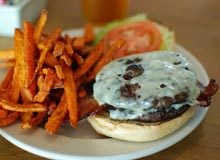 aurant's signature sweet potato fries and a pickle. No fries? No problem. Substitute a side salad of fresh mixed greens or the famous potato salad. The burgers include the Classic American Cheeseburger, a Bacon Swiss Burger, the BBQ, Avocado & Pepper Jack Burger, the Blue Cheese & Caramelized Onion Burger, and the new south classic Pimiento Burger.
We order everything but the Classic American, ironic considering it's the 4th of July. I feel perfectly justified with my choice of the Pimiento Burger. The homemade pimiento cheese oozes from between the patties. The buns don't overwhelm the burger, nor do they fall apart. It's a perfect bread-to-meat ratio. The toppings all around are superb. The thick cut, smoky bacon gets high marks and a slab of Sea Island tomato is an essential summertime burger accoutrement in the Lowcountry. The pimiento cheese made with Cabot White Cheddar offers up a nice tangy sharpness while a hint of white pepper warms the palate. The potato salad with sweet pickle relish is the stuff of perfect picnics – cool, creamy comfort on a summer's day.
The sweet potato fries (SPF's) represent something of a conundrum. They're sweet and salty, crunchy and soft, bursting with color and flavor. It is the side that divides. They're gorgeous on the plate but if you prefer your 'taters less orange and from Idaho – as does one of our party – try something else. Our resident SPF addict admits that along with the texture, crunch and mix of salty and sweet, "It makes you think you're eating something healthy." And as it turns out, they're also really good dipped in mustard. Give it a try.
The late great journalist (and burger aficionado) Charles Kuralt once said, "You can find your way across this country using burger joints the way a navigator uses stars." Boldly, we go in search of intelligent life in the "burgerverse."
EXTRA CHEESE
Want to take home some of Plums' famous Pimiento Cheese or Shrimp Salad? Ask your server about picking up a pint or two to go.
After 10 p.m. Plums transforms into a popular nightspot featuring regional artists most nights and no cover charge.
Plums
904 Bay Street
Historic Downtown Beaufort, SC
(843) 525-1946
(And… check out the new Plums Bluffton location at 15 Towne Drive, Belfair Towne Village. Phone (843) 706-3647)
So many burgers, so little time…
Got a favorite burger? Email us the lowdown at backyardtourist@gmail.com