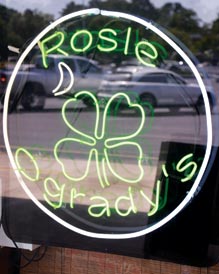 The Burger Beat at Rosie O'Grady's
Story & photos by Mark Shaffer
Long ago in a misty age known as "The 80s" a visionary reporter named Jim Atkinson set out on a quest to document the great American institution of the Dive Bar, or in Atkinson's terminology the "bar bar." It was a risky and often thankless task, but Atkinson stuck to it and eventually published a book of his findings in 1987.
The View From Nowhere was generally ignored by a consumer-driven society already being drawn like moths to shiny corporate logos with gee-aw-shucks ad campaigns that appealed to a younger suburban demographic weaned in malls and fast food joints. Time worn neighborhood pubs, taverns, and bars fell out of fashion with a generation obsessed with style over substance. And they got what they deserved. I was once forced into a "happy hour" at one of these Stepford establishments and the experience was soul sucking. Someone at the table ordered a carafe of wine and the server blankly looked out from beyond her crisply pressed uniform and asked, "What color is that?" Honey, it's a deep beige shade of apathy and it matches the potato skins.
Potato skins. Don't get me started. But, as is so often the case, I digress. It's easy to do with this gig. We're all about supporting our locally owned and operated bars and restaurants and a packed parking lot under a gleaming trademarked beacon is a constant puzzlement – the homogenization of America. Beaufort's got its fair share of this stuff with more on the way, and while I find this disappointing on a lot of levels I'm in no position to throw stones. And yet standing at the front door of Rosie O'Grady's I find it a little sad that most of the people streaming into theses places will never take a chance on anything outside of their very narrow comfort zones. Then again, more of the good stuff for the rest of us.

THE GOOD STUFF
Jim Atkinson never took his dive bar tour to South Carolina. Near as I can tell he went straight from one of my favorite bars in Baltimore's Fell's Point to one of my favorite bars in Atlanta. As it turns out I've been to an alarming number of the establishments he chronicled. But I'm convinced that had he carried on over the years he would have eventually stumbled upon Mike and Leslie Pressley's fine example of his beloved art form.
Michael or "Mikey" to his regulars, calls Rosie O's "a five star dive bar." Step inside and you'll get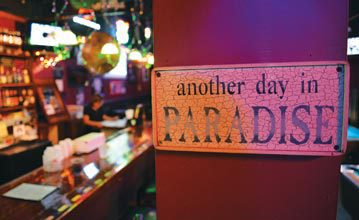 it. The bar's adjacent to the K-mart off of Boundary Street, but don't let the shopping center location fool you. Once you walk through the door you could be anywhere. There's a classic neighborhood vibe to the place with just the right amount of neon and miscellaneous junk and stuff spread about the place. "Bar crap," Mike calls it. "A good bar's got to have a lot of crap." Velvet Elvis guards the cash register. A mounted sailfish is suspended in an eternal leap above it. This is also one of the few spots left in Beaufort where you can shoot a friendly game of pool or ten. And (to the best of our knowledge) it is the only joint in town with more than one table.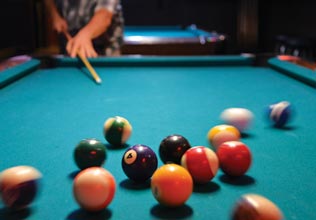 Pressley spent a good chunk of his childhood in the wilds of Hunting Island where his dad was Park Superintendent back in the 1960s. He ran high-end resorts for nearly 30 years before he and Leslie dropped anchor here a decade ago. "Sometimes it feels more like 20," says Leslie. "And sometimes I think, ten years? Really?" It's barely noon on a Friday and a few regulars are getting an early start on the weekend. The lunch crowd begins to drift in. Take out orders – mostly burgers – are already stacking up on the bar. The burgers and everything else that comes out of the kitchen "are made with love," says Pressley, who makes every choice beef patty by hand. Pressley's burger philosophy is in line with ours. A great burger should make your knees buckle. "Everybody likes hamburgers and a good hamburger is easy to make," he says, "but a lot of people screw it up by cooking all the juice out and turning it into a hockey puck. We don't serve hockey pucks."
The most popular burger is the Beaufort Burger, basically because it's a build-your-own proposition. This is your burger, your way. Craving some pig on your patty? No problem. Add bacon and the house made Carolina pulled pork. Hell, go nuts and slap on some grilled jalapeños, chili, onions and your cheese of choice. Mikey likes things spicy, even the cheese. If you need a little extra bang for the buck, throw caution to the wind and top off your burger with a hunk of ghost pepper & cheddar. You won't find that anywhere else in town. There are virtually no limits to having it your way. If it's in the house, it's yours says Mikey. "We'll put anything on a burger." All Rosie's burgers are char grilled and served with fresh lettuce, a thick cut slice of juicy red tomato on a corn dusted Kaiser roll.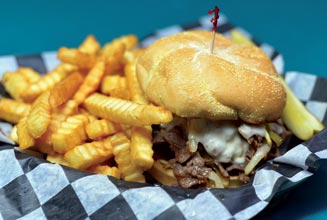 Lowcountry Weekly Publisher and burger aficionado, Jeff Evans, sets his sights on the Philly Cheeseburger. This twisted bit of genius is a 1/4 pound of beef topped with another 1/4 pound of Philly steak, peppers, onions, pepper jack cheese and house-made yum yum sauce. Be sure to ask Leslie for extra sauce. Mikey's known for "Da Boss's Sauces" including his Creole Honey Mustard and his Orange Wasabi Marmalade (see below).
I make a quick call to my insurance agent and order the Rosie O's Chili Cheeseburger From Hell! This half-pounder is a Frankenstein's monster of a burger. And we mean this in a good way. This is not a burger for the feint of heart or anyone who has ever ordered a frozen drink in a mall bar. All kidding aside, it's an exercise in how to build flavor, texture and heat. There's even a how-to chart in the kitchen for beginners. The big beef patty is topped with generous portions of grilled jalapeños, Pepper jack and provolone cheeses, chili, lettuce, tomato and as much of Mikey's homemade habanero sauce as your physician will allow. Big, tough grown men with tattoos and loud motorcycles have shed tears of joy and pain while eating this thing. Or maybe that was the wings.
The burger baskets come with a dill wedge, a pickled pepper and a mountain of piping hot old-fashioned crinkle-cut fries, crisp and tender without a hint of grease. The Philly steak spills out from under the bun. The Chili Cheeseburger From Hell just sits there looking mean.
"That's the kind of burger that looks up at you and goes, 'I double dare you,'" says Jeff.
What the hell, I was always a sucker for a dare.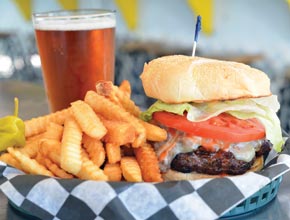 The burgers are hot and juicy and perfectly cooked. The lettuce is crisp and the big slice of tomato does what it's supposed to do: render the ketchup moot. My "Hellburger" is almost too big to bite, but once I do it is indeed one hell of a bite. In fact, this baby bites back but in a very complex way. The flavor of the beef is front and center, never overpowered by the heat. All the flavors come together in a very big way bound by the melty goodness of the cheeses. This is what my dad would call a 'sink burger' as it comes with everything but the kitchen sink and he'd eat something like this over the kitchen sink. There's no skimping on the napkins here and if necessary you can always walk out back and hose off.
Jeff pronounces the Philly "The perfect burger mash-up," and asks for a to-go box. "If I eat the other half of this I get the feeling there's no way I'm getting out of here vertically," he says. As for me, it may already be too late.
EXRA TOPPINGS
Rosie's also features live entertainment. Check the website for details and look for the ad in this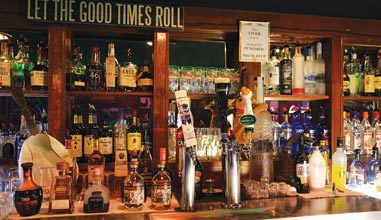 publication for a schedule. When the weather's nice, the bar's crowded or just for the hell of it, Rosie's expands out back under the big top. Mike's converted an old concessions trailer into a second bar. Oyster roasts go on year round.
And now you can take a bit more of Rosie's home with you. "We started selling our sauces by the bottle recently," says Pressley, "$8 bucks for a 16 oz. re-useable squeeze bottle." And look for a calendar full of specials in September. "We're knocking half-off the menu price on Wings, Burgers, Fish & Chips and Philly's on specific days, so that people can enjoy a taste of our food at "dirt cheap" prices," he says. "We know we have a great product and we're willing to do what's needed to get that out there."
Irish American Sports Pub & Eatery
Beaufort Town Center next to Kmart
843.379.7676
www.rosiesirishpub.com
JOIN THE BURGER BEAT
We're in search of the best burgers in The Lowcountry. Email us at backyardtourist@gmail.com and tell us about your favorite burger. The criteria's simple: no national chains and all burgers must be handmade on site.