The Burger Beat heads to Port Royal's Back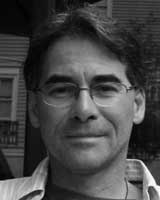 Porch Grill
Story and photos by Mark Shaffer
When we first cooked up this column I swore that I would never, ever, under any circumstance quote Jimmy Buffett's "Cheeseburger in Paradise." In my opinion it marks the end of J.B.'s relevance as the free spirited poet laureate of the Conch Republic and the beginning of a brand. And then I end up on the deck of a marina bar overlooking the Intra-coastal Waterway shaded by massive live oaks and all I can hear in my head is that damn song…
           
            I like mine with lettuce and tomato
            Heinz 57 and French fried potatoes
            Big kosher pickle and a cold draught beer
            Well, good God almighty which way do I steer
            Yeah, yeah. I know. But I'm afraid I simply have no choice in the matter. The Back Porch Grill practically rings with a Parrothead vibe and that li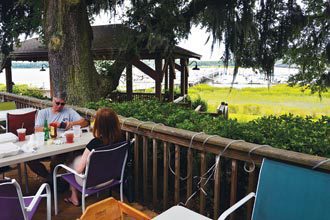 ne about "not too particular, not too precise" pretty much nails the burger menu. And did I mention you could get here by boat? Any meat-eating sailor knows that marina bars are known for great burgers. It's a basic culinary link to the land. And, of course, it's what's for dinner when you're sick of fish.
            This Burger Beat roster includes Lowcountry Weekly Publisher Jeff Evans and Media Specialist Amanda Hanna, and Special Guest Star Lorrie Anderson. We grab a table between a group of young marines quietly celebrating a birthday and a couple of salty dogs pursuing an enthusiastic approach to a very early happy hour. Inside, a few dedicated regulars have taken up their posts at the classic carved wood bar to shoot the breeze and quaff a few cocktails. This is a local's joint, to be sure. It's anchored this spot for a lot of years and it's always been known to serve up a quality burger with a little something extra on the side.
            "You can't beat this view," says Lorrie. "Or the breeze."
It's mid-afternoon in August but feels more like late September. Perched on a high bluff, the deck offers a sweeping river vista that spans downtown Beaufort and beyond the McTeer Bridge toward Parris Island.
            During this outing Lorrie and husband Dave were putting the finishing touches on their long gestating dream project. NeverMore Books is now open at 201 Carteret Street in downtown Beaufort. Stepping into this unique, eclectic shop is like stepping into another world – a world in which any lover of books will love to linger (click on Art at lowcountryweekly.com and go to Books for more).
            As previously mentioned, the Back Porch burger menu is not complicated. You've got three main options from which to choose – the basic burger, a hamburger steak "hungry man meal" and the patty melt. Dress them up and top them with a variety of cheeses, jalapenos and bacon. Amanda and Jeff opt for the patty melt, a burger served up on Texas toast smothered in grilled onions and your choice of cheese – or in Amanda's case, plain. Lorrie and I go with straight up cheeseburgers and fries. Jeff's the only one at the table with onion rings. And they look fantastic.
            "They are fantastic," he says. "Not greasy at all. Really great rings."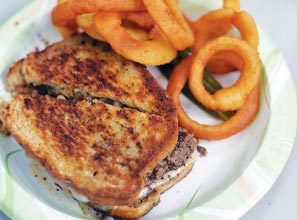 We all knick a ring and agree. Unless I'm in a place absolutely famous for them (Bessinger's springs to mind), onion rings are almost always an iffy call. These are just right: golden brown, crunchy and sweet. I'll always be more of a fry guy. For me the half-life of an onion ring is just too short. Once they've cooled off, I'm no longer interested. Like the burgers, the BPG isn't re-inventing the wheel here. These are your basic everyday shoestring fries and I like mine with plenty of ketchup.
            "I'm kind of digging the whole paper plate thing," says Jeff. "Adds ambience."
And the burgers & fixing's fill them up. The big red slice of tomato and leafy green lettuce are firm and fresh and I'm sure Mr. Buffett would approve of the big kosher pickle.
            "These burgers are huge," says Lorrie. "And they are definitely hand made. You can tell."
            The burgers do indeed sit high on the bun. Each one is perfectly cooked to order, even Amanda's well done "non-melt."
            "It's well-done but not burnt and it's juicy and perfect. I love that," She says. "It's hard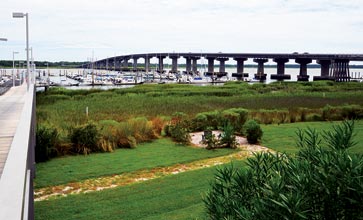 to get a good burger cooked through that's not like a piece of leather."
            Jeff proclaims the patty melt exceeds his expectations. "There's nothing on this but the cheese and the onions and that's all it needs. I wouldn't add a thing. No mayo, no ketchup, no nothing."
            My burger's topped with a blue cheese Tabasco remoulade and grilled to a juicy, pink medium rare. Each bite is better than the last. The topping is just the right balance of hot and tangy without overpowering the beef.
            "How's your Monterrey Jack burger?" I ask Lorrie.
            "It's just right," she says. "In fact, Dave will get the rest of this. It is a lot of burger."
            "I think I have a new favorite," says Amanda.
            Cue the Coral Reefers.
The Back Porch Grill
1 Port Royal Landing Dr, Port Royal, SC 29935
(843) 525-9824
Monday 4pm – until
Tuesday – Sunday 11am – until