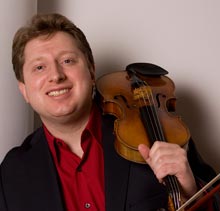 The Age of Romanticism – the European artistic and literary movement that arose in the latter half of the 18th century – gave new freedom of expression to the composers of that time. Their compositions became more emotional and subjective, the tone color richer, and harmony more intricate.
            And nowhere are these qualities more evident than in German composer Felix Mendelssohn's Concerto for Violin in E Minor, Op. 64, to be featured in the next concert of the Beaufort Symphony Orchestra, "Classically Romantic" on Feb. 26 and Mar. 1. In describing the concerto which debuted in 1845, Maestro Frederick Devyatkin notes that, "The E Minor is both a great work of art and a virtuoso vehicle. It has the pristine clarity of Mozart or Haydn, and the romantic sweep of Schumann or Brahms."
            Returning to the Beaufort stage to perform this jewel of a violin concerto will be Guest Artist Yuriy Bekker (above), concertmaster for the Charleston Symphony Orchestra. Mendelssohn's soaring work is testimony to the truth of his observation, "Music fills the soul with a thousand things better than words."
            Following intermission the orchestra takes center stage to perform Tchaikovsky's Symphony No. 4 in F Minor, Opus 36, another composition inspired by the Romantic Period's infatuation with love, the supernatural and even dark themes such as death. Composers' imaginations and passions soared spontaneously and they interpreted these feelings through their works. Tchaikovsky described the theme of this work which debuted in 1877, as "a characterization of the nature of fate." He credited music with the ability to "express all those things for which words cannot be found but which nevertheless arise in the heart and cry out for expression."
            So mark your calendars and make your plans to attend this superb evening of beautiful music beginning at 7:30 p.m. on Thursday, Feb. 26, and 4:00 p.m. on Sunday, Mar. 1. All tickets are $37.50 at the door, with the exception of Student tickets which are $5. For savings with Season Tickets go to the orchestra's website at www.beaufortorchestra.org and print out a subscription form or order online at www.TIX.com or call 1-800-595-4849. A map with directions to Sea Island Presbyterian Church on Lady's Island is also on the website.