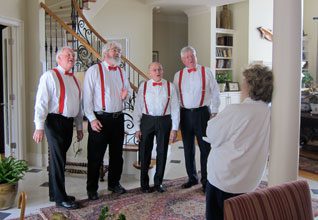 For more than fifteen years now, the Beaufort Harbormasters have delivered Singing Valentines all around the Beaufort area. They have sung to sweethearts, wives, lovers, hospital patients and nurses, (even doctors), senior centers, office staff, Marine Corps families, restaurant and gallery patrons, firefighters, police officers, private parties, political meetings . . . and all sorts of innocent bystanders. What a way to spread the love.
The Harbormasters were founded in 1999 by the late Peter Stevenson, when he advertised for singers for a barbershop chorus. Four hardy men showed up, and by March of that year, they had 12 members and were qualified to be a chapter of the national Barbershop Harmony Society. Today, the Harbormasters perform and entertain in a variety of ways. Typical events include serenading in art galleries and restaurants during the Beaufort Art Walks, sing-outs at nursing and rest homes, performances at wedding rehearsal dinners and other private functions and at the annual Night on the Town in downtown Beaufort, and an annual Spring Show. One of their favorites is driving throughout the Beaufort area on February 14 each year delivering Singing Valentines.
On Tuesday, February 14, the Harbormasters get to do it all over again . . . and they can't wait! To arrange a delivery go to beaufortharbormasters.org.  Each Valentine includes a lovely long-stemmed rose. Chocolates from the Chocolate Tree are also available.