Dedicated students bring hit musical 'Hairspray' to the BHS stage.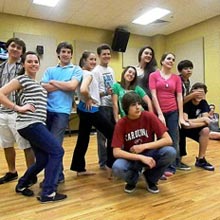 The BHS Theater program will present "Hairspray" on March 1-3 and 8-10 at 7:00 pm at The Arts Center at Beaufort High School.  As with all the performances offered by this group, the audience will leave amazed that they just attended a high school production.
Auditions for musicals at BHS are open to all students, as well as those from home school programs and neighboring schools. There are even parts for adults. The show is supported by parent volunteers who do everything from selling ads and building sets to hemming costumes. School faculty work to help student performers keep up with course work, and ACT small school principal Ms. Cindi Rini and Principal Dr. Dan Durbin are the biggest cheerleaders of all. "The strength of the arts program at BHS is due to the tremendous support of Dr. Durbin and my parents," according to Laraine Fess, drama teacher and the musical's director. "I'd like to buy them all flowers every day." Dance teachers Teresa Baker (lead choreographer), Kathy Ingram (assistant choreographer) and music teacher Jordan Norris (choral coach) are giving their time and talents to the project.
"Hairspray" was chosen by the students as their spring musical. Several of the drama class members told me that they were excited about doing a show staged in the 1960's and dealing with a special part of history. I was in a classroom full of kids from diverse backgrounds who can't fully understand segregation, but who can appreciate the benefits of being different together. Angie Chancay, who plays the lead character Tracy Turnblad, said she has wanted to play Tracy since she saw the movie as a little girl. "Finally, a great part for the chunky girl," she says, with a bright smile. The kids also told me that the set and costumes are great… not to mention the big hair. I agree, the set is bright and cheerful and the hair will be almost as big as the talent on the stage.
The classrooms and stage are busy with kids working on their dancing and singing skills, building and
painting sets and running lines. You can't accuse these teens of not caring about what they're producing. As a parent myself, I am amazed at the hard work my son puts into both the production and his school work. He is more motivated in the classroom when he is working on a play. Just like school athletes, the performers must keep an acceptable grade point average to participate. Fess stays in touch with students and teachers during the show to make sure no one falls behind.   She is dedicated to not only teaching about performance, but about life skills, such as teamwork and mutual support to see a project through. "The performing arts show kids how to use the skills they learn in the classroom…yes, even science and math," says Fess. One of her dreams is to have access to a technical director at the facility who would help run all the arts programs but also offer classes in that aspect of the theater – lighting, sound and set design. My family is a big supporter of this dream, as one of our sons hopes to become a technical director some day.
The BHS drama program keeps a busy schedule with an average of two children's shows, two larger, main-stage productions, Senior 1 Act plays (their final exam) and a touring show. This year the touring show will be about bullying and will visit several elementary and middle schools in the area. Shows are family-centered, with the goal of being affordable entertainment that a family can do together. The children's shows are geared toward younger kids and are priced for a night out with the children. The other shows are appropriate for families with older children and for adults who enjoy good entertainment.
The Performing Arts Center not only houses the BHS Theater group, but also the school's dance, choir, band, strings and visual arts programs. Beaufort High is the only county school with all the arts equally represented. The performing and visual arts teachers are excited about a venue where their students can perform and exhibit together. The state of the art facility gives the students and the community the ability to enjoy quality entertainment in a comfortable and central location.
Tickets for "Hairspray" are $10 for adults and $8 for students and those with active military ID. Group discounts are available for groups of 10 or more. Call 322-2152 for more information.