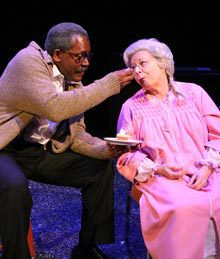 As a special addition to its five-show theater series, the Arts Center of Coastal Carolina is presenting a two-week run of the timeless American classic, Driving Miss Daisy, March 17-April 1.
The play is being directed by Atlanta theater icon Bob Farley, who staged the second production ever of the 1988 Pulitzer Prize-winning drama in Atlanta.
A huge box office success, it became the longest running show in the history of theater in the Southeast, running for two consecutive years.
For the Arts Center production, Farley has reunited the cast of his 20th anniversary revival of Daisy, also staged in Atlanta in 2008. Playing the Southern matriarch is Jill Jane Clements, an award-winning theater, television and film actress, appearing in two movies being released this year—Ben Stiller's Neighborhood Watch and Denzel Washington's Flight.
As Daisy, Clements plays the role of a stubborn 72-year-old Jewish widow living in Atlanta in the mid 20th century. After she wrecks her car, her son Boolie insists she give up driving. Against her wishes, he hires Hoke, a kindhearted African-American chauffer who is tolerant of her barely disguised racial bias. In time, the two forge a friendship that transcends pride, prejudice and the changing times.
"She has all these preconceived notions about African Americans," Clements said of her character. "But he proves her wrong just by being who he is. In spite of herself, she grows and changes through the years."
Rob Cleveland, an Atlanta actor who has performed in more than 50 professional stage productions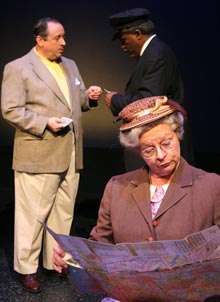 throughout the country, is playing the 60-year-old Hoke, a role he has performed four times. He was first cast as the driver 15 years ago.
"It won't take as long to get me into makeup this time around," Cleveland quipped.
Written by award-winning Atlanta playwright Alfred Uhry, the story takes audiences on a two-decade journey that chronicles the evolving relationship between Daisy and Hoke.
"People get swept up by the story," Cleveland said. "It's a perfectly written play that flows beautifully from scene to scene."
Recently produced on Broadway with Vanessa Redgrave and James Earl Jones in the lead roles, Driving Miss Daisy was first performed in New York in 1987. Farley, who was serving as the artistic director of Atlanta's Alliance Theater at the time, saw the off-Broadway production and was so taken by the tale, he convinced Uhry to let him stage Daisy in the playwright's hometown.
"Stories have been told in theaters for 2,500 years," said Farley, who co-founded and continues to serve as the artistic director of the Georgia Ensemble Theatre & Conservatory. "This is a particularly good yard written better than most."
In 1989, Uhry adapted the play for the big screen. The film, which starred Jessica Tandy and Morgan Freeman, won the Academy Award for Best Picture and Best Adapted Screenplay.
Tickets for Driving Miss Daisy are $41 and can be purchased at the Arts Center box office, online at www.artshhi.com or by phone by calling 842-ARTS (2787).
The premiere performance of the show will serve as the centerpiece of the Arts Center's March 16 black tie gala, a fundraiser benefiting Arts Center and education programming. Call 686-3945, ext. 305, to make your reservations for the gala.