On Sunday, November 16, at 3:00 p.m, Beaufort Performing Arts will present Aspen Santa Fe Ballet, a company of twelve classically trained dancers who perform an eclectic repertoire by some of the world's foremost choreographers.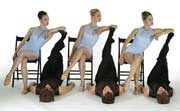 Aspen Santa Fe Ballet is celebrating its ninth season this year; they perform year-round at home in Aspen and Santa Fe, and on tour throughout the United States. This ballet company has established itself as one of America's leading contemporary dance companies and made its New York City debut at The Joyce Theatre and was also invited to perform at the legendary Jacob's Pillow Dance Festival in 2003. The New York Times calls the company "a breath of fresh air!"
Beaufort is delighted that one of the dances to be performed at the USCB Performing Arts Center is Twyla Tharps' Sinatra Suite. Come and see these world famous dancers perform to the popular songs by Ol' Blue Eyes, Frank Sinatra, showing Tharps' choreography at its most accessible – from the elegant ballroom stylings of "Strangers in the Night" and "All the Way," to the balletic "My Way" and the comically feisty tusslings of "That's Life." Also included in this performance is the very fun and innovative "One for My Baby" which is sure to please even the most ambivalent ballet goer.

This performance is for everyone, especially those that believe ballet is for just the "highbrows"! If you missed Parson Dance Company last year you won't want to miss Aspen Santa Fe Ballet!
Don't walk but run to get tickets for this performance! They're on sale now at the USCB box office. Ticket prices are $40-35-30 and half price for children 12 years old and younger. Box Office: (843) 521-4145 Monday-Friday 10:00AM to 5:00PM. University of South Carolina Beaufort is located in the heart of downtown Beaufort at 801 Carteret St, Beaufort, SC 29902.