Part 3: Do We Want More Tourism?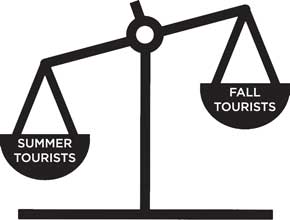 Gary Kubic is one of those leaders who is more than a county administrator. He is certainly a government leader, yet, it doesn't take long to discover that he is also a very successful entrepreneur and businessman. He is one of those leaders who has an "intellectual curiosity." When he sees a problem, he also smells an opportunity.
Last fall Gary Kubic asked me to make a presentation to his County Board of Commissioners. The topic was simple. What are the opportunities behind our research that shows that our coastline has a "relatively low risk" for fall hurricanes? During the presentation I presented this slide and then said, "We have a huge opportunity. That opportunity is tourism."
I made the point that Dr. Larry Rowland believes the coastline from Charleston to Savannah has a level of tourism aesthetics equal to that of Yellowstone Park plus Williamsburg. Immediately, one of the board members interrupted. "Daryl, we have been trying to keep that a secret." He made the comment in a light-hearted manner, yet his point reflects the opinion of some of us. The point is this: "We live here, or we moved here, because of this unspoiled beauty. We don't want to see more traffic. Our growth is happening so fast that we are losing the very reasons why we live in Beaufort County."
A few of our neighbors feel this way. In fact, I have felt that way. It's an honest opinion. But it is not very practical. For the last five years we have lived next to neighbors who lost their jobs. We know retailers and builders who have had to declare bankruptcy. Lives were torn apart because we had a poor economy. Our reality is simply this: The Lowcountry needs an economic growth rate that at least matches inflation. If our economy is flat, our medical, taxes, homeowner's insurance, and food costs will quickly erode our living standard. And quite frankly, isn't that what is happening to us today?
The ideal answer is this. We need an economy that has balance and can give us a steady and slow growth. Today our economy relies on the military, retirees, and tourism. But tourism is not that balanced. Beaufort County does well in the summer. But Hilton Head tourism falls off the map in the fall.
A focus on fall tourism has big advantages for all of us. It improves the balance in our economy. It also has the potential to draw more international visitors. When the economy is down in the U.S., it is often stronger in other countries. When families cannot afford to make a summer trip to Hilton Head, a more affluent retiree couple can make that trip during the fall. And the profitability of tourism can be very high.
Anyone who owns or manages a small business knows how difficult it is to achieve a 5-10% net profit. The overall return on a tourism promotion is often 20 to 1. In other words, for every one dollar we would spend on promoting tourism, we should receive $20 in tourism revenue. Tourism gives us an unusually high return because there is very little capital investment. We don't have to spend money to create a beautiful attraction . . . if that beauty already exists. Yes, we would all like to be the last person to cross the bridge into Beaufort County. But that is not going to happen. As a matter of fact, I am not sure that it is the right attitude from a moral point of view.
We all have a responsibility to try to make our country as least as strong when we leave it as it was when we got there. Frankly, I am not sure we are succeeding. I see too many of our children and grandchildren acting as if they are owed an easy and smooth life. They just do not seem to understand that it takes a great deal of hard work, pain, sacrifice, and periodic failure to live a responsible life. However, I also believe that you and I need to take some responsibility for this attitude. Personally, I know that I did not do enough to equip my children so that they had my values rather than the ones they saw on television. As the old saying goes, "It took me forty years to be an overnight success."
Why is all this point important? Because we have identified a large tourism opportunity. It is one through which you and I can show our children and grandchildren what it took to just exist when they landed in America.
Daryl Ferguson was the president of Citizens Utilities, the nation's largest multi-utility, from 1990-2000. He was chairman of the board for Europe's Hungarian Telephone Company from 2000-2005. He received his doctorate in 1971. He holds two patents. His research on our relatively low coastal risk for hurricanes and our lack of state insurance regulation led the Charleston Post and Courier to write an investigative series called "Storm of Money." This series, and reporter Tony Bartelme, were named the runner up for the 2012 Pulitzer Prize. Mr. Ferguson and Stuart Rodman give all the credit for the research in this series to Dr. Chester DePratter, Dr. Larry Rowland, Dr. Paul Hoffman, Dr. Eugene Lyon, and Dr. Karen Paar.