A conversation with the cast of "Honky Tonk Angels," opening at USCB on October 20th.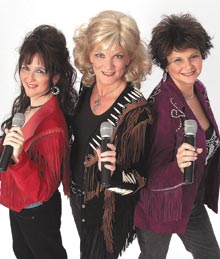 Photos by Eric Smith, Captured Moments Photography
Last week, I had the great pleasure of sitting down with Penney Dawson, Velma Polk and Elaine Lake, soon to be renowned throughout Beaufort and beyond as the Honky Tonk Angels. The three women, who barely knew each other until recently, have become fast friends who finish each other's sentences, step on each other's punch lines, and clearly delight in each other's company. On October 20th, they'll bring that infectious camaraderie – and some sweet singing chops – to the USCB Center for the Arts in the musical comedy "Honky Tonk Angels."
The Angels – as they shall henceforth be known – tell me that each felt an uncanny connection to her character from the get-go. Velma plays Angela, a Texas housewife with a great sense of humor and an independent streak. Elaine is Darlene, a sweet, simple girl who grew up in a coalmining town. Sue Ellen, played by Penney, is a citified southerner living in LA pursuing a career. "Honky Tonk Angels" is the story of how the lives and destinies of this unlikely trio unfold and, ultimately, intertwine. In Nashville, of course, where all honky tonk dreams come tr
ue.
Velma Polk is a local country star from way back – you may have seen her at the Back Porch Grill, where she had a regular singing gig for years – but this is her first foray into theatre. From what I can tell, she's downright giddy over the experience.
"This is the most fun I've ever had in my life!" she says. "If I'd known it would be this much fun, I'd have done this years ago, when I was actually young enough to keep doing it for a long time!"
She almost missed her chance to start. Velma says she'd have never even considered auditioning for 'Angels' – "The thought wouldn't have entered my mind!" – had Penney Dawson not called and asked her to. Penney had just signed on as Musical Director, and was looking to cast her show with some great voices.
"Penney and I didn't know each other well," says Velma, "But she'd heard me sing at the Back Porch, I guess."
Elaine Lake almost missed her Angelic calling, too. She'd been very active in musical theatre as a teenager and a college student – got plenty of leads – and had planned to pursue it further… until life happened. She and her husband Jason, a professional set designer/lighting and sound technician, moved to Disney after college, hoping to sign on with some productions there. But it wasn't as easy as it sounded, and pretty soon Elaine was pregnant with their first child. They left Disney after only a year. Almost two decades and another child later, the Lakes landed at the USCB Center for the Arts, where Jason currently heads up tech and set design. Elaine often assists him.
"I've been sitting up there in the lighting booth, watching these great productions on stage, and thinking, 'Why am I back here? I want to be up there!' But I didn't dare audition for anything. I didn't think I could do it anymore. I'd lost so much time!"
Elaine almost backed out of her 'Angels' audition, but Jason – who happens to be her biggest fan – insisted she do it.
"I was terrified! But when I got out there and started singing with these two… all my fears just melted. It was like I'd never left the stage. It just felt right."
Bonnie Hargrove, Artistic Director of the CFA, says "right" is the ideal word to describe this trio's sound.
"We had several women audition, and they were all really good," she says. "But it was about the blend. These three just blend so perfectly. The moment they sang together, I knew it… and they knew it."
Penney Dawson concurs. "With my position as Musical Director, I wasn't sure I wanted a part in the
show. That's just a lot to take on. I absolutely loved the role of Sue Ellen, but I told myself I would only take it if we didn't find the perfect Sue Ellen at auditions. We still didn't have her cast when I got on stage and sang with Elaine and Velma. And it just felt so right." (There's that word again!) "I had to admit to myself that I needed to do this part."
Penney is the "old pro" in the cast. No, she's not old, but she's been acting, singing and musical-directing in this area for about 20 years. A strings teacher at Battery Creek High School by day, Pennie has thrilled many an audience by night, especially in Savannah, where she's been involved in countless productions with the Savannah Theatre, both acting and directing.
"But believe it or not, this is the first part I've ever had that's actually right for me!" she laughs. "I'm always playing these weird parts that that don't really fit – 'Hey, we want you to play the old lady!' – mainly, I guess, because I can… and I will. But this time, the part feels like it was written just for me. It's great!"
The Angels tell me their show is more singing than talking. "A lot more!" somebody pipes up. "Probably about 90% singing." Somebody else says it's more like 85%. In any case, you get the point. "Honky Tonk Angels" has even more music than "Always, Patsy Cline," USCB's crowd pleaser from last season, created by the same writer, Ted Swindley. If you liked "Patsy," chances are you'll love "Angels." Featuring great country – and country-ish – classics like "Rocky Top," "Delta Dawn," "Stand By Your Man," "Coal Miner's Daughter," and "Amazing Grace," the production will also showcase a terrific live band, gorgeous sets, great costumes, and really big hair. According to the cast mates, the show is both hilarious and deeply touching.
"I think the audience will laugh and cry," says Penney Dawson. "At least I hope so."
Before I left this company of Angels, they graced me with a couple of songs, a capella, weaving harmonies so rich and sweet I thought my heart would break. So, while I can't guarantee the laughter – I haven't seen the show – I highly recommend you bring your hanky. The crying's a sure thing.
"Honky Tonk Angels" opens Saturday October 20, at 7:30 pm at the USCB Center for the Arts. The show will continue October 26 and 27 at 7:30 pm and on Sundays October 21 and 28, at 3 pm. Tickets are available at by calling the box office at (843) 521-4145. Ticket prices are Adults $20, seniors $18, Students $15. All seats are general admission.