On April 12th at 7 pm, Beaufort Performing Arts will present SHOWTUNE, Celebrating the Words and Music of Jerry Herman!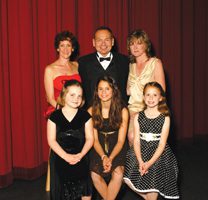 Beaufort Performing Arts is proud to present a combination of arts and talents – all in one package! It has become a tradition in the few short years of BPA's history to have a production orchestrated around our local talent with a few invited professional guests. The 2007/2008 BPA season will be no exception with SHOWTUNE.
SHOWTUNE features the word and music of Jerry Herman, from such famous shows as Hello Dolly, Mame, Mack & Mabel, LaCage Aux Folles and many more. You will hear wonderful tunes like Before the Parade Passes by, It Takes a Woman, Bosom Buddies, If He Walked into my Life, I am What I Am, and more.
And you will get to see and hear your local favorites sing these tunes, such as The Beaufort Performing Arts Children's Theatre and the tapping sensation, The Beaufortettes, tapping their hearts out to Tap Your Troubles Away. Back on board will be Scott Burkell, who is not only starring in the production but directing as well, Penney Petersen and Kathleen Watkins along with Lou Irwin designing costumes and Jordan Culver doing the vocal direction. Even our own Executive Director Dee Dee Sandt will perform this year! Anthony C. Daniel, straight from the national tour of Disney's HIGH SCHOOL MUSICAL, will choreograph the show.
This is "Don't Miss" performance, and we guarantee a good time! Tickets on sale now! University of South Carolina Beaufortís Performing Arts Center. Ticket prices are $40-35-30 and half price for children 12-years old and younger. Box Office: (843) 521-4145 Monday -Friday 10:00AM to 5:00PM. University of South Carolina Beaufort is located in the heart of downtown Beaufort at 801 Carteret Street.