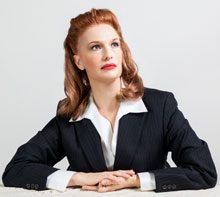 Thirty-one year old Katharine Hepburn is determined to be Scarlett O'€™Hara. It'€™s her chance to salvage her reputation as "€œBox Office Poison,"€ a moniker theater owners have thrust on her after a string of box office flops. Never mind that she won an Academy Award two years earlier. As she waits the studio'€™s decision on casting Gone With The Wind, she reflects on the inner workings of the Hollywood star system including an experience with John Barrymore that seems ripped right out of today's headlines.
In between she fills us in on how she became Katharine Hepburn with that distinctive voice and iconic style along with the family traumas that shaped her steely determination.
When we next see her, she'€™s 76 years old and wearing a leg brace, a souvenir of a recent driving accident. Acerbic, witty, and charming, she talks about her complicated 27-year-long affair with the married Spencer Tracy. Peppering her reminiscences with comic stories about celebrity encounters, she pokes fun at her movie star image while making pointed comments about being an older actress in a business that favors the young.
Peggy Trecker White stars as both incarnations of the legendary actress in Lean Ensemble Theater'€™s production of Matthew Lombardo'€™s Tea at Five. Lean Ensemble Member Ian McCabe directs this lively one-woman show.
Tea at Five. Four performances only! December 14-16 at 7:30 PM. Sunday matinee December 17 at 2 PM. Talkbacks following each performance. Hilton Head Preparatory School Main Street Theatre, 3000 Main Street, Hilton Head Island. Tickets: $40 evening performances; $35 matinees; $15 students/active military. Group and discount rates available. www.leanensemble.org 843.715.6676.