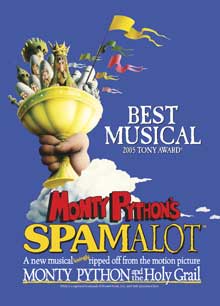 Hailed by the The New Yorker as a "no-holds barred smash hit," Monty Python's 'Spamalot' conquers the Arts Center stage from May 1- 26!
This zany musical tells the tale of how King Arthur gathered together his Knights of the Round Table and set off on a quest to find the Holy Grail.
But this version has a twist, not seen in the likes of the more traditional Camelot, from which much of the story is spoofed. Along this particular journey, we meet skimpily-clad showgirls and less-than-shining knights, not to mention flying cows, killer rabbits and rather rude French people.
With book, lyrics, and music by Eric Idle along with John Du Prez, Spamalot shines under the direction of knighted favorite Casey Colgan, returning to the island from New York City, and boasting an extravagant set and lighting design by Terry Cermak, decadent costuming by Diana Griffin, and high-stepping choreography — not to mention a bevy of wigs — by Broadway sensation, Nic Thompson, most recently in Broadway's Mary Poppins.
Eric Idle's stage version of Monty Python and the Holy Grail artfully works both ends against the middle. It spotlights perhaps every opportunity that a piece of musical theater can offer, all the while laughing at itself for being a musical. One of the show's big numbers, for example, is "The Song That Goes Like This," a tune that explains that it must show up at this point in the show even though it has nothing at all to say, while remaining nonetheless, hilarious.
Fans of Idle and his fellow silly Brits will enjoy seeing and hearing some of their favorite bits (such as the taunting Frenchmen and a homicidal rabbit) in a slightly different context and often expanded with musical embellishments. Among the most winning numbers are "I'm Not Dead Yet," (maybe not, but he is not at all well) and "Always Look on the Bright Side of Life," a twisted bit of musical advice taken from the film Life of Brian.
The original 2005 Broadway production was nominated for 14 Tony Awards and won three, including the Tony for Best Musical. With genres that run the gamut from Gregorian chant and French can-can to rock n' roll, musically, there's something for everyone in Spamalot.
All of the ingredients that made the show a phenomenal hit on Broadway are evident in this side-splittingly entertaining edition. This parody of a parody is rich with outrageous musical numbers and is, not surprisingly, highly irreverent. The cast is 18 strong and filled with some of the most colorful characters imaginable.
Starring as Lady of the Lake is hometown-girl-gone-to-Broadway Meredith Inglesby, who made her professional debut at the Arts Center in 1998 as Eliza Doolittle in My Fair Lady. She has since been featured in Broadway's Beauty and the Beast and The Little Mermaid, along with having performed in national tours of Little House on the Prairie, The Musical and Disney's On the Record. This time, Meredith is accompanied by her husband, Steve Blanchard, a Broadway celeb as well, having starred as Beast in Broadway's Beauty and the Beast, now in a leading role in Spamalot playing the dashing King Arthur.
Another hometown favorite who's been on the Great White Way as well is the talented Jeffrey Watkins, who'll be brandishing his sword as Sir Galahad!
With a stellar cast, lively score and non-stop laughs, Spamalot at the Arts Center promises to be a wild ride-of-a-night at the theatre! Don't miss this Tony award winning musical, running May 1 – 26 at the Arts Center of Coastal Carolina.
Tickets are $56 for adults and $39 for children, (preview prices are $46/adult and $33 for children) and may be purchased by calling the box office at (843) 842-ARTS or by visiting online at www.artshhi.com. Groups of ten or more may get reduced ticket prices, as well as two free tickets! Find out more by calling the box office.