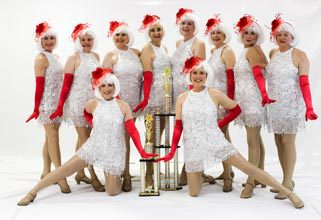 The Beaufortettes – Tap Dancing Divas will be opening the "What Would Lucy Do" show on Sunday February 1st at 3 pm and 7:30 pm at the USCB Center For The Arts in Beaufort.
This is the ultimate Lucille Ball tribute show staring the award winning impressionist, Suzanne LaRusch. The Beaufortettes, in tribute to Lucy's home city, will be dancing to "New York, New York." Tickets for the performance can be purchased online at www.uscbcenterforthehearts or by calling 843-521-4145.
The Beaufortettes – Tap Dancing Divas, began tapping together in 2006. They all had very little if any tap dance training but had big dreams. Although they are not exactly spring chickens, they think of themselves as pretty cool southern chicks. Their two "tapercize" dance classes each week have proven to be both physically and mentally stimulating. They have found this to be the best method of staying young in mind, body, and attitude. Today in 2015, they have 9 members ranging from the ages of 66 – 81 with an average age of 72. They are currently dancing under the direction of Aleisia Ashlaw of Beaufort Academy of Dance.
       They have performed with "Tap City," productions at the Beaufort Performing Arts Center, several military tributes, the Beaufort Memorial Hospital Day of Dance, and The Hen Party both here in Beaufort and in the historic Newberry Opera House in Newberry, South Carolina. They began competing in 2011 and have won six first place trophies as well as special costume and entertainment awards. They are the DTI National Dance adult champions winning the Judges Choice Elite Award, First Place Adult Dance, and the Level One Overall Entertainment Award. They never imagined that they would ever earn the title of "National Champion" at their age! Last spring they won the Encore Dance Competition in Statesboro, Georgia in their age category with a perfect score bringing home the High Score of the Day Trophy and The "Most Entertaining" Award. They will be competing in the South Carolina National Dance Championships in two weeks and are hoping to win another national title.
In addition to fulfilling their Rockette dreams, they surely never thought they would be performing in tights at their age. Even more amazing is the fact that, even though they would never normally say this to each other at their age, they all wish to "break a leg" at every performance! Their grandchildren are not quite sure about watching Grandma on Youtube, but the Beaufortettes are excited about becoming part of the digital age.You are never too old to achieve your dreams!
The Beaufortettes: Dance Captain Janet Gregory, Pat Ash, Gladys Garrett, Connie Haskell, Phyllis Kaupp-Seas, Nancy Law, Gloria Mabry, Lura Holman McIntosh, and Pat Schad.