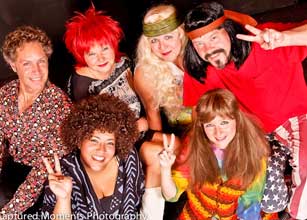 Attention all Baby Boomers and wannabes – put on your leisure suits, your halter tops, wrap-dresses and platform shoes and get ready to boogie down when 8-Track, The Sounds of the '70's in Concert comes to USCB Center for the Arts beginning on September 6.
Presented by Beaufort Theatre Company, this fast-paced, high-energy romp through one of the most impassioned decades of the 20th Century will ring a lot of musical memory bells for those who "came of age" during this decade of lava lamps, toga parties, "Charlie's Angels" and disco mania. Attendees will rediscover the heart and soul of this iconic era with the pulsating rhythms and harmonies of its ground-breaking music. "Feel the Funk" musical directors Jordan Norris and Mike McFee, and "Boogie Down" choreographer Valerie Hobbs direct the cast of superb local talent, including "Groovy Ladies" Angy Chancay, Elaine Lake, Velma Polk and Susan Smith, and "Out'a Sight Guys" Brad Ballington. Kwame Johnson, Gregg McClain and Zabriel Rivers through the non-stop song and dance extravaganza.
Over 50 era-defining songs featured
Over 50 top songs from the era will be featured, including the music of The Doobie Brothers, The Emotions, Barry Manilow, the Bee Gees, Helen Reddy, Marvin Gaye, Carly Simon, K.C. & The Sunshine Band, The Carpenters and LaBelle, to name just a few. The two-act performance will include such iconic songs as, "We Are Family," "Stayin' Alive," "The Hustle," "Y.M.C.A.," "Peace Train," "I Am Woman," Afternoon Delight" and "Fifty Ways to Leave Your Lover," among many, many more.
Costume Contest on Opening Night, September 6
The 1970's was a decade of self-expression rather than designer label driven. All those of "a certain age" will remember mood rings, tie dye tops, bell-bottomed pants, butterfly-collared shirts and hot pants, and the breakout style for men, leisure suits. Admit it – you felt good in polyester! To bring back that feeling, CFA is sponsoring a Costume Contest on Opening Night, September 6, with prizes awarded. "We want the opening night audience to set the tone for the show and the rest of the performances," said CFA director, Bonnie Hargrove. "The production celebrates the joy of this special music in our time and what better way to relive those unique experiences than to get into character completely! We look forward to having a lot of wonderful vintage looks from which to pick our winners."
Bring back the memories or make new ones!
Suitable for all ages, the music should be instant recall for the plus-forty crowd who want to step back in time and relive some great memories. For younger wannabes it's the perfect opportunity to experience the energy and beat of a fabulous era of breakout music that influenced singers and composers for years to come.
So rummage through those closets and thrift shops, get a "Convoy" together and "Get Down Tonight" on Opening Night, Friday September 6, to "Shake Your Booty"! And "Don't Cry Out Loud" if you can't be there for the opening, find out "What's Goin' On" for the other four performances.
Performance Schedule
Performances will be on September 6, 7 and 14, at 7:30 p.m., and on Sunday, September 8 and 15, at 3:00 p.m. Tickets prices: Adult $22; Senior $20; Student $10. For advance tickets call the CFA Box Office at 843-521-4145. Also available beginning one hour prior to curtain on the day of the performance. For more information go to www.uscbcenterforthearts.com .