The Society of Bluffton Artists' Gallery welcomes Mary B. Kelly in a one-artist show during the month of February. Titled "Shadows and Reflections," the exhibit represents experiments and teaching techniques with light and color, which she uses at the Art Academy of Hilton Head and at SOBA's Center for Creative Arts.
            Kelly is an accomplished artist, professor of art and author with degrees from St. Mary of the Woods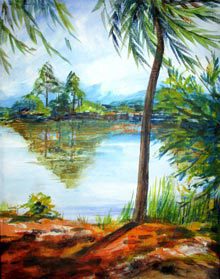 College in Indiana, Rhode Island School of Design and Syracuse University. She taught painting within the State University of New York system for 25 years and has lectured at many colleges and universities. She continues to teach and lecture even after her retirement to Hilton Head, and exhibits her work widely participating in many one-artist and group shows. In addition to painting, her interests range from weaving and collection of textiles, to educational travel and research. Always delighting the audience with fresh and lively images Kelly is sure to please with this new exhibition.
            Enjoy refreshments, "Shadows and Reflections," and the work of over 100 other member artists at the opening reception Friday, February 6 from 4 – 6 pm. The show will also feature Kelly's lecture/demonstration at the gallery on February 12, from 2 – 4 pm. Explaining techniques involved in representing shadows and reflections correctly, she will demonstrate these concepts with light sources and mirrors.
            The SOBA gallery is open from 10 until 5 pm Monday – Saturday and Sunday from 11:30 – 3 pm, and is located at the corner of Church and Calhoun Streets in Bluffton.
            For more information visit sobagallery.com or call 843-757-6586.