Beaufort Performing Arts, Inc. is thrilled to present Aesop's Fables, the last of its four children shows known as PJ & Play, sponsored by Kinghorn Insurance and Lowcountry National Bank. The performance will happen at 7 pm, on Friday, April 18 at the USCB Performing Arts Center.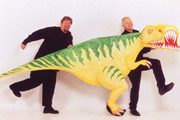 PJ & Play is a theatre series for children three to twelve years of age. Please feel free to bring your child or children in pajamas, all ready for bed. BPA hopes this event will serve as their bedtime story – only with live characters and plenty of entertainment. All participants will receive a Steve Brown cookie and a glass of milk. There must be at least one (1) adult accompanying every four (4) children.
Aesop's Fables is an all-puppet extravaganza, featuring "The Goose that Lay the Golden Egg," "The Boy Who Cried Wolf," and many more of Aesop's legendary stories!
The show, created by Jim West Productions, is a unique combination of puppetry, including large-scale animals, colorful rod-puppets, imaginative paper bag and box creatures, and skilled hand-shadow artistry. The large-scale puppets tell and act out stories from around the world, accompanied by the music of Scarlatti, Beethoven, and Chopin. A bonus: lots of drawing and puppet-making ideas to take home!
With the help of Aesop himself and his faithful dog Moral, Jim and his partners present some of the famous fables such as "The Lion and the Mouse," "The Tortoise and the Hare," and "The Fox and the Grapes."
Tickets are on sale now at the USCB Performing Arts Center box office. Tickets may be purchased by phone. Box Office: (843) 521-4145, Monday-Friday 10 am – 5 pm. Ticket prices are $7.00 for children and $12.00 for adults. University of South Carolina Beaufort is located in the heart of downtown Beaufort at 801 Carteret Street.