Gary Yeagle pens the latest Beaufort mystery.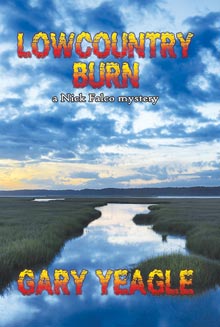 And the books set in Beaufort just keep on coming. Mystery writers, in particular, can't seem to resist our moody, moss-shadowed atmosphere. Who can blame them?
The latest scribe to fall victim to our sultry charm is Gary Yeagle, who has just released Lowcountry Burn: A Nick Falco Mystery.
Twenty-seven year old Nick Falco considers himself a loser. He hasn't dated in five years, his painting business is failing, he only has a few hundred dollars to his name, his van is broken down, and he's being evicted from his apartment. On top of all that, his beloved grandmother has mysteriously passed away. Now, Nick must put the life he had planned for behind and prepare for the new life ahead.
Nick soon learns he's inherited a great deal of money from his grandmother, along with her house on beautiful Fripp Island, where he's dreamed of living since he was a boy. But his new dream life suddenly takes a turn for the nightmarish when he discovers that two strange men from New York are following him and his new girlfriend has a maniac for an ex-boyfriend. Throw in a serial killer on the loose in Beaufort County, and you have all the makings of a great mystery.
According to the author, Lowcountry Burn is full of local flavor. Readers will recognize restaurants, street names and various points of interest. Yeagle is the author of several books, including Little Big Men – The Road to Williamsport; Angel's Footprints; and Seasons, Echoes, and Shadows of Death, a trilogy of mysteries set in the Smokey Mountains.
Yeagle lives with his wife in St. Louis, Missouri, but will be visiting the Beaufort area from September 12 – 28 and looks forward to meeting local readers at a series of book signings he's arranged.
Book lovers can meet Gary Yeagle and have books signed on Wednesday, Sept. 17 and Thursday, Sept 18 from 1-4 pm at Bill's Liquor Store on Lady's Island, and on Saturday, Sept. 20 from 1-4 pm at McIntosh Books in the Old Bay Marketplace on Bay Street.