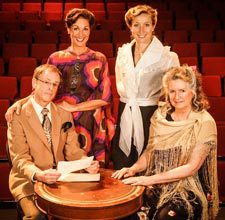 Leave it to the irreverent British playwright Noel Coward to pen a play about death and ghosts at the height of the London Blitz during WWII. But far from being put off by the subject matter, audiences flocked to "Blithe Spirit" to escape war's reality for a few hours and laugh at the travails of a "hag-ridden" husband torn between two equally demanding wives, one alive and one dead.
This bickering ménage a trois will once again delight audiences when they take the stage at USCB Center for the Arts from April 16 to 19.
            Arguably the most popular of the more than 50 plays Coward wrote during his six-decade career, this light comedy about death was written in less than a week while on holiday after his office and apartment had been destroyed by bombs. A triumph in London and New York, "Blithe Spirit" is, as Coward described it, "An Improbable Farce in Three Acts."
            Directing the Beaufort Theatre production is George Pate, who has been Assistant Professor of English in Drama and Theatre at USCB Beaufort since August, 2014. He holds a PhD in Theatre and Performance Studies from University of Georgia, with an MA in English with Concentration in Creative Writing from University of Tennessee and a BA in English from USCB Columbia. In January of this year he directed the USCB Theatre production of "Talking With…" and has appeared in numerous productions as playwright or actor between 2005 and the present.  
            In the role of the dotty eccentric Madame Arcati is accomplished actor Andrea Drake. She began her community and regional theatre career in Long Island, NY and has appeared in over 35 plays. Beaufort and Hilton Head audiences will remember her in the Arts Center of Coastal Carolina production of "Black Coffee," and Beaufort Theatre productions of "Cat on a Hot Tin Roof," "Love, Loss, and What I Wore" and "Love Letters," and as director of "Same Time Next Year."
            Egotistic Charles Condomine is played by James Tisdale, Registrar for USCB Beaufort since 2011. He holds a PhD. in Higher Education Administration, Student Personnel Services specialization, an MA in Spanish Literature and a BA in Modern Languages from Colorado State University.
            The conniving Elvira is played by Maria Combess who was previously in "A Piece of My Heart" at USCB. Before moving to Beaufort her stage credits included "Don't Dress for Dinner," "Three Tall Women," "An American Daughter" and "Lend Me a Tenor."
            Ava Alexander is the briskly efficient Ruth Condomine, married to Charles for five years. She has appeared in several other plays prior to moving to Bluffton, where she is a Physician's Assistant.
            Bob Herrick is the skeptical friend, Dr. George Bradman. He has worked extensively in theatre, film and television, appearing in several Arts Council of Beaufort Co. "ArtWorks" productions.
            Dr. Bradman's naïve and excitable wife, Violet, is played by Kay Owen. Her interest in the theatre started with her behind-the-scenes volunteer work at ArtWorks and USCB Center for the Arts. She has appeared in "Love, Loss, and What I Wore" and "A Piece of My Heart."
            Edith the Maid, a small but pivotal role, is played by Lynleigh McLain.
            Tickets are Adults $25; Seniors $20; Students $15. Go on the website at www.uscbcenterforthearts.com or call 843-521-4145. All seats are assigned. Box office opens one hour prior to curtain, performances on April 16, 17 and 18 at 7:30 p.m. and April 19 at 3:00 p.m. at 805 Carteret St. in downtown Beaufort.