The Beaufort Children's Theatre presents "Disney's Little Mermaid, Jr."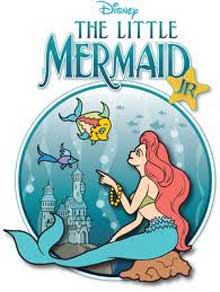 The Beaufort Children's Theatre returns to charm and dazzle audiences at USCB Center for the Arts with Disney's "The Little Mermaid, Jr." The 60-minute musical is based on the 2008 Broadway production and the 1989 animated feature film. The cast features about 80 aspiring young actors, led by directors Bonnie Hargrove, Jim Riley, and Valerie Hobbs.
This classic Disney title contains all of the songs from the Academy Award winning animated feature film, as well as three new songs from the Broadway show. "The Little Mermaid, Jr." takes place in a magical kingdom beneath the sea, where a beautiful young mermaid named Ariel longs to leave her ocean home to live in the world above. But first, she'll have to defy her father, the king of the sea, escape the clutches of an evil sea witch and convince a prince that she's the girl with the perfect voice.
Cast members include: Ariel – Ellen Hodges , Carlotta – Allie Fraley, Chef Louis – Lyz Betz, Ursula – Angela Chancay, Flotsam – Grace Stewart, Jetsam – Madison Logan, Flounder- Brycen Ambrose , Grimsby – Preston Coleman, Gulls – Zachary Hobbs, Campbell Dukes, Jasmine Marie Callendar, King Triton – Alex Long, Merfolk – Karina Achico. Elizabeth Foster, Katherine Foster, Ansleigh Pingree, Alyssa Wells, Hannah Fennell, Isle Von Heimburg, Matthew Davey, Sarah Webb, Reese Myers, Malea Achico, Alyssa Rembold, Sophia Exley, Megan Wells, Anna Gallant, Merisisters – Caroline Robinson, Katy Waller, Jenna Dean , Julia Pollitzer, Holland Perryman, Alyssa Lehnert, Pilot – Shannon Courtney , Prince Eric – Dan Brown, Princesses – Tess Lacomb, Akasha Nelson, Trissy Long, Emily O'Regan , Rachel Shelton, Stewart Trask, Chefs/Sailors- Austin Major, Jr., William Davidson, Kidron Martin, Abby Wiley, Emmanuel Bent, Sarah Correll, Emily O Regan, Hailey Seckinger, Ashley Reynard Scuttle – Conor Gallagher, Sea Chorus – Rachel Cain, Grace Trask, Riley Gates, Madegan Achico, Julianna Lane, Avery Thomas, Gracie Guest, Claire Bowden, Maureen Waunch, Lagoon, Sea Creatures – Madison McDougall, Lydia Klepper, Alona Singleton, Grace Eklund, Luci Dodge, Kendall Martin, Maura Clarke, Ledare Pingree, Asia Kongkiat, Alex Clark, Peyton Brock, Leah Bowers, Abby Bowers, Morgan McDermott, Jack McDougall, Maggie Kinton, Sebastian – Ivan Estrada , Jack McDougall, Tentacles Katherine Taylor, Kayla Wohlwend, Payton Palmer, Hannah Schranz, Megan Alvarez, Sage Posey- McGill, Leith Gray, Sophie Jenkins
The dates for Disney's "The Little Mermaid, Jr." are May 10, 11, 17 at 7 pm, and May 19 at 3 pm. Tickets: General admission Adults $12, Students $8, Reserved seat Adtuls $20, Students $12. Call the CFA box office to reserve you tickets (843) 521-4145.