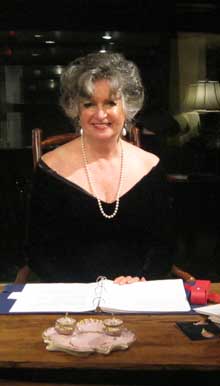 When A.R. Gurney wrote "Love Letters," he created so much more than a story about a collection of letters exchanged between lifelong friends. Over 23 years after its debut performance in 1989, his Pulitzer Prize-nominated play is still connecting with audiences all over the world as the two characters share their hopes and ambitions, dreams and disappointments, and victories and defeats throughout their separated but shared lives.
Melissa Gardner and Andrew Makepeace Ladd, III, grew up together in upper-class comfort in the northeast region of the country, always friends but never boyfriend-girlfriend. Romantically attached to others all during their lives, they belatedly attempt an intimate relationship but both realize it is too late for them to be any more than great friends. It is not until the end that they understand how their gifts of love for each other had profoundly affected them both.
Letters of love exchanged over a lifetime
On stage, Melissa and Andy read their exchanged letters written over their 50-year relationship, beginning in the second grade when Andy sends Melissa a valentine and progressing through boarding schools, colleges, romances, marriages, and into late adulthood. Though they are complete opposites, over the years they continue to share confidences and provide mutual support, inspiration and love as they take very divergent paths in their personal and professional lives.
Melissa, portrayed by Andrea Drake, is the irreverent "wild child" who struggles against the constraints of polite society from an early age. Having flunked out of several colleges, she begins chasing that illusive bluebird of happiness through men, marriage and divorce, artistic expression and, finally, alcohol.
Andrew, played by Larry Hill, is the disciplined and ambitious Andy, who excels in law school, joins the Navy, marries, enters politics and ends his career as a member of the U.S. Senate. He is content with his life and resists Melissa's attempts to free him from what she considers to be his boring and stuffy existence.
Roles are a challenge for actors
Gurney's characters are wonderfully deep, and portraying their lives from childhood to old age is a true challenge for any actor. Andrea Drake and Larry Hill have been portraying Melissa and Andy together for about one-and-a-half years, each adding their own personal touches to their characters.
"Andy is Melissa's security," says Andrea of her character. "Even though she belittles his stability as stiff and stuffy, whenever she needs to center her life she goes to him for support and encouragement." What Melissa gives to Andy is quite different. "Melissa is Andy's excitement in life – the spark that relieves the boredom of his well-planned existence," observes Larry of his character. "Andy lives vicariously through Melissa's Bohemian experiences, but never enough to really consider changing his conservative lifestyle."
Andrea Drake
The two actors who bring Melissa and Andy to life have very different backgrounds as well. Andrea Drake is an accomplished actor who began her avocation of acting in community and regional theatre in Long Island, NY. She has appeared in over 35 plays, including the role of "Big Momma" in "Cat on a Hot Tin Roof" in last year's Beaufort Theatre production at USCB Center for the Arts, and Aunt Caroline in "Black Coffee" at the Arts Center of Coastal Carolina in Hilton Head. Her list of stage credits includes classics such as "Steel Magnolias," "Brighton Beach Memoirs," "Same Time Next Year," "Plaza Suite," "Arsenic and Old Lace," "Shirley Valentine" and several of the Agatha Christie Mysteries, to name just a few.
Andrea is an educator by vocation with a Masters Degree in English from Stony Brook University in NY. During her career she taught in a variety of public and private schools in the northeast. She and her husband Robert divide their time between Callawassie Island in Okatie, SC, and Shelter Island in Long Island, NY.
Larry Hill
Larry Hill is also very accomplished on stage, but as a singer rather than an actor. He is a member of Beaufort's "One Voice" Quartet that has performed at Parris Island during 4th of July celebration and Beaufort's Water Festival, and they were the opening act for the Cherry Holmes Show at Center for the Arts. Andrea heard his voice and encouraged him to read for the part of Andy.
Larry and his wife, Carol, lived in Atlanta, GA during his career in sales management. While there he also served as Music Director for several major churches in the Atlanta area. They also now reside on Callawassie Island.
"Sweets for the Sweet" Reception
"Love Letters" is a real valentine of a play that appeals to men and women alike with laugh-out-loud lines and an ending that will squeeze tears out of all but the stoniest hearts. So come celebrate Valentine's Day with your significant other at USCB Center for the Arts on Tuesday night, Feb. 12, for a "Sweets for the Sweet" reception at 6:00 PM and the show beginning at 6:30 PM.
All tickets are $15 in advance and at the door. Call the Box Office at 843-521-4145 for more information.