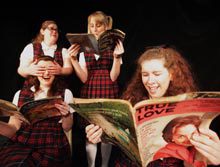 "I grew up in the late 60s and early 70s in suburban Indiana, and directly up the street from my house was St. Charles Catholic Church," says Gail Westerfield, director of "Catholic School Girls," which opens at ARTworks March 22.     
"When I was little, I was so drawn to that place," Westerfield continued. "I loved the school uniforms, and seeing nuns outside, sometimes smoking cigarettes, which seemed like such a scandal. I would ride my bike around there after school let out and strongly considered sneaking into catechism classes and converting. What I really wanted, I realized, was to go to a church with incense and chanting, where Latin was spoken and leaders wore big shiny hats. With no small amount of embarrassment, I told all this to a beloved minister when I was in my late teens, and he said, 'Well, naturally, Gail. You were into the theater of the Church.' And he was exactly right!"
So "Catholic School Girls," which takes place in the 1960s and follows the lives of four girls and the nuns who educate them from first through eighth grade, was a natural choice for Westerfield, whose company, Misspent Youth Productions, is a producing partner at ARTworks.
"On one level, it's about these big themes of faith, family, friendship and self-discovery," Westerfield notes, "while on another level, it's just a really humorous coming of age tale, set in a culturally very interesting period."
Many women auditioned for the four roles, in which the actors play both children and nun
s. "We're so lucky to have so much talent in this town," Westerfield said.
Jenn Shand, who is currently choreographing Beaufort Children's Theatre's The Wizard of Oz, calls dancing her "first love," so her background has been primarily in musicals in community and professional theaters. "I'm always on the lookout for challenging roles to expand my acting skills," she says, so has appeared on the ARTworks stage previously in "Our Town" and was directed by Westerfield in "Talking With…"
Shand said she enjoys "the challenge of playing two different characters," neither of whom is particularly likeable. "I love that I get the chance to play two people who can be rather mean. I've never had the chance to play anyone really unlikable before."
According to Shand, audiences can expect to see "some great acting from four great actresses, and a story that will make them both laugh and cry."
Joellen Hirschey first got involved in theater at Beaufort High, and went on to study acting in New York City at the American Musical and Dramatic Academy. She said she feels "so fortunate to find Artworks," where she appeared in Westerfield's production of "The Dining Room," and most recently in "Quilting the Sun."
Her work in "The Dining Room," where she played seven roles, ranging from a bratty six-year-old to a senile old woman, motivated her to audition for "Catholic School Girls." "I had such a great time," Hirschey recalled, "that I leapt at the chance to work with Gail again. She is so much fun. She really understands actors. You can't help but grow as a performer when you work with her."
Hirschey calls "Catholic School Girls" "an incredibly easy play to like: it's humorous, it has a dance number (which Hirschey and Shand choreographed), and at its heart, it's about the inner struggle of faith and forgiveness that all of us must go through."
Kristal Norris, who recently moved to Beaufort with her husband, Tim, a Marine, has been doing community theatre since she was 10. "I love performing and doing tech work. It doesn't matter, as long as there is a stage involved!" she said. "Starting off in a new place, I wanted something that felt familiar. Auditioning for a show was the best thing to make me feel at home."
Norris was drawn to the play, she says, because "I love the simplicity of the set, and the size of the cast that lets you focus on the characters. I like the way you get to see the girls grow and come into their own."
Shawn Sproatt has "been performing since I was a kid" and went on to become "the ultimate drama queen" at Beaufort High, performing, working backstage, and directing a show that was taken to a competition her senior year. "I ate, slept, and breathed theater, and I still couldn't get enough of it. In college, I didn't perform nearly as much, because I took an interest in costumes. So I have a B.A. in Theatre with a focus in Costume Design from College of Charleston." Sproatt designed the costumes for "Catholic School Girls."
Sproatt says she likes the play because, "even though I'm not from New York or Catholic, I can still relate to these girls. All women can, because we see them go through so much (good and bad), and each one of us can relate to one of the characters."
Sproatt added that "Everyone should come see this play, because it's going to be so entertaining! It's witty, and sweet, not an in-your-face kind of show that'll make you question your life choices or religion. It's just a heartwarming coming of age story, that men and women both will relate to, and let's be honest: who doesn't love those? Plus the acting is (obviously) going to FABULOUS!"
IF YOU GO:
"Catholic School Girls" will be performed in the Black Box Theater at ARTworks in Beaufort, located in the K-Mart / Bi-Lo shopping center at 2127 Boundary Street.
Performances are March 22 – 24 at 7:30 pm; March 25 at 3 pm; March 29 – 31 at 7:30 pm; April 1 at 3 pm. Audiences for the March 23 performance will enjoy a free pre-show reception.
Tickets are $17 per person, $12 for students, $7 for children (12 and under), and $12 each for groups of 10 or more. Both Thursday performances are "Pay What You Can" nights. ($5 minimum, please)
For tickets and more information, call 843.379.2787 or visit http://beaufortcountyarts.com/theater.htm#catholic