Arrgh, there are pirates in them there waters! Beaufort High School Theater presents their spring musical "How I Became a Pirate," based on the children's book written by Melinda Long and David Shannon. Bring your maties to the show and learn along with Jeremy Jacob as Braid Beard and his motley and hilarious crew show you how to speak and act like a real pirate. Along the way you and the crew may learn something (like the importance of brushing your teeth or how to play soccer) from Jeremy Jacob in return. The play, directed by Loraine Fess, once again showcases the wonderfully talented students in the BHS theater program. The group is well know for quality musical productions such as "Fame" and "Hairspray, The Musical." If you love reading to your children or grandchildren, bring them to the show and let them see this funny storybook come to life. This family friendly show is full of fun and laughter for swabbies old and young.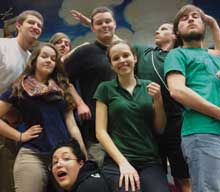 Proceeds from this musical help send the students to Myrtle Beach to perform "When you SEE something SAY something," an original Anti-Bullying play written by Mrs. Fess and her students, for the Rotary Club state convention. This show was put on for all the 6th graders in the school district. It was written to encourage all bystanders to report bullying and to help those who are being bullied. It teaches students that when we work together to help those who are being picked on we CAN and WILL stop Bullying.
"How I Became A Pirate" sets sail in the BHS Performing Arts Center at 7:00pm Thursday through Saturday on March 7-9 and 14-16. Adult tickets are $10 and student tickets are $8. Advance tickets can be ordered by calling 843-321-8156. Saturday the 9th is military appreciation night and active duty military receive a discount with their ID. Both Saturday shows include special family night events starting at 5:30, with free hot dogs, face painting and a kid's costume contest with prizes. Come show your true pirate colors and sing along.