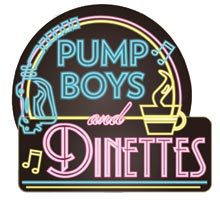 A Love Song to Family, Friends and Fried Chicken
The summertime production at the Arts Center is packed with toe-tappin' music and high-octane fun in this unique "feel good" show that's great for all ages.
It's a slice of southern Americana, and it's as pleasurable an experience as a sweet summer evening by a lake. The story of Pump Boys and Dinettes is set somewhere between Frog Level and Smyrna, North Carolina at a filling station run by L. M. and Jim. Then just across the way is the Double Cupp Diner, operated by the lovely sisters, Rhetta and Prudie Cupp.
This stop on Highway 57 is where all the action is, and once the boys get that guitar and bass fiddle revved up, you won't want to be anywhere else. Pump Boys and Dinettes is a countrified musical packed with highly entertaining tunes such as "Drinkin' Shoes," "Farmer Tan" and "The Night Dolly Parton Was Almost Mine." Prudie and Rhetta celebrate their famous home cooking and gift for song with the same zeal they bring to their kinship with the boys.
Running June 17 – July 27, Pump Boys and Dinettes is a delightful blend of concert and musical theatre, wherein the actors are also the musicians and play a mix country, rock and pop music, making it a fabulous time for the whole family! The actors perform the stories of their lives on guitars, piano, bass and even kitchen utensils. Directing the Arts Center's production is the talented Robert Farley, co-founder of the Georgia Ensemble Theatre and Conservatory and its Artistic Director since its inception in 1992.
Pump Boys opened on Broadway at the Princess Theatre in 1982, where it played 573 performances and was nominated for both Tony and Drama Desk Awards for Best Musical.
A Broadway revival is in the works, so it's sure to come back to the Great White Way, meanwhile Pump Boys and Dinettes is onstage in New York later this summer with a star-studded cast at Encores! Off-Center. For now, however, you can see it right here at the Arts Center and get a jump on the NYC theatergoers!
Pump Boys and Dinettes is a blast for the whole family!
Tickets are on sale now! Preview tickets June 17-19 are $34 for adults and $24 for children 4-15; from June 20 on, regular tickets are $44 for adults and $31 for children. Purchase tickets now by calling the Box Office at (843) 842-ARTS (2787) or go online to www.artshhi.com.