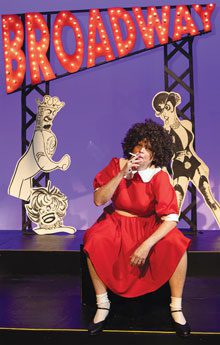 USCB Center For The Arts announces Beaufort Theater Company's production of "Forbidden Broadway's Greatest Hits,"  a hilarious, loving and endlessly entertaining tribute to many of Broadway's biggest shows. Laugh out loud as the cast parodies selections from Annie, Wicked, Les Misérables, Phantom of the Opera and Cats, as well as Broadway legends like Carol Channing, Ethel Merman, Chita Rivera and Liza Minnelli.
Conceived and written by Gerard Alessandrini, Forbidden Broadway is a nine-time winner of the prestigious Drama Desk Award for Outstanding Revue and additionally received it's own special Tony Award. The show is so funny and fast moving that Forbidden Broadway has been called "The Saturday Night Live of Broadway" by The Today Show.
            As the sister production to last spring's most successful "A Tribute To Broadway," the
audience can now see the tongue-in-check reaction of the off Broadway "want-to-be-Broadway" actors to those long running Broadway actors and their iconic roles. This is a hilarious spoof of Broadway's memorable hits with sidesplitting twists of lyrics – such as: "WICKED – Defying Subtlety," "FIDDLER ON THE ROOF – Ambition," and "A CHORUS LINE – What I Did For Laughs." You'll love Annie as she confesses that she will be "forty years old tomorrow" and begs "revive me, revive me" as "tomorrow is yesterday." The cast includes: Curtis Dansby, Corrie Frohnapfel, Janet Gregory, Kelly Hall, Dan Hodges, Louise Hodges (above), Noah Krepps, Elaine Lake, Mike McFee (right), Velma Polk, Barry Reese, Julie Seibold, and Shelia Jenkins-Ward. The production team includes: Musical Directors Jordan Plair and Joshua Wall, choreography Gina Taramasso, set design Greg Rawls, light design KC Newcomb, costume design Pat Wilcox, and scenic artist Mary Ann Ford.
          "Forbidden Broadway's Greatest Hits" performances are Friday and Saturdays, April 20, 21, 27, 28 at 7:30 pm with one Matinee Sunday, April 29 at 3 pm at USCB Center for the Arts, 805 Carteret St. Beaufort, SC. Tickets are Adults $30, Senior/Military $25, Students/Children $15 and may be purchased at www.uscbcenterforthearts.com or by calling 843 521-44145. You do not want to miss this hilarious spoof of Broadway's greatest hits; be prepared to laugh the night away!!