I've been an "outsider" since last August, listening to the locals echo "Water Festival" in all its glory since I moved to Beaufort about a year ago.
Man, it's the best time of the year… Just wait 'til Water Festival…The sandbar is crazy!
etc… Well the notorious Beaufort holiday has come and gone—live music was danced to, new friends were made, old friends embraced, and sandbar debauchery had. By the time Water Festival was over, in a way I would have never anticipated a year ago, I had a newfound understanding of sandbar summers and southern nights.
How I met more people during the past 10 days than in the last 11 months, I don't know. As someone pointed out to me, "That's Water Festival, baby!" Opening night of Water Festival, the downtown scene was boisterous, overflowing with people moving between the gated festival grounds and the six local bars. Beaufort bars suddenly had bouncers. Bar decks were crowded with music and full of dancing. Folks stood shoulder-to-shoulder at wooden bar tops, shouting drink orders before bee-lining to the dance floor or outside where their friends were smoking cigarettes. Where the hell have these people been hiding, I asked myself, realizing maybe the same rock I'd been hiding under. I cruised the nightlight
with my sister and our mutual childhood friend, striking up conversations with strangers who quickly became new friends, and, later, in the morning, mysterious nicknamed contacts like "Git-er-done boy."
Handing my cell phone and wallet to my sister, I asked her to keep them in her purse so I wouldn't lose them. I looked her in the eyes with coercion; "Don't leave me," I warned her, and followed a man to the dance floor. After only two songs, I excused myself in search of my sister, who was nowhere in sight. Gone. Without any source of communication or funds, I wandered from bar to bar looking for her and taking Water Festival all in. After circuiting each bar without luck, I wound up talking to Q's bouncer, who offered me a ride home when he got off at 2 a.m. For the next week, I got to meet all his friends from town.
It was during this week of Water Festival that, after nearly one year, I would finally have my rite of passage as a Lowcountry gal, catching fish by day and swimming in alligator-infested waters by night. Two dear friends, a Beaufort diehard couple, took me out fishing by Parris Island. Meanwhile, dozens of boats zipped by us on their way to the sandbar, where DNR and the coast guard were policing boats like white on rice. We were on a different mission. Catching red fish in the Lowcountry isn't just a shared pastime; it's a local fanaticism. High tide had just turned and I caught my very first 14" trout and 28" red fish. I was squealing with joy as my friends grabbed the fishing net to hoist the monster red into the boat. It was something like releasing a trophy back into the water.
That same night would be my first experience with Harold's Country Club, which, to me, is essentially a Yemassee watering hole for rednecks. There is only one option for dinner on Saturday nights, the steak dinner, which we have to call and reserve beforehand. A nice woman crossed off our names from her list and plopped the mightiest steak of my day on a plate, telling me her son cooked it. We took our seats along an extended picnic table and chowed down in what looks like an American antique shop.
Harold's is much more than a gas station or country store or family-style restaurant or bar even; it's a country wonderland. Toothless men with camo hats called us "ma'am" and 70-year-old men in their buttoned downs and boots danced in the corner by their wives and friends. Every beer was just $2 and a pool game 75¢; there were peanuts at the bar (in tupperware), and I saw a jar of pickled eggs. No one bothers to go outside to smoke cigarettes; I reckon it doesn't matter out here. Women take to the dance floor for line dancing like it is their job. The blond DJ blows smoke from a fog machine while lasers shine down on the dance floor, inviting everyone to a good 'ol time.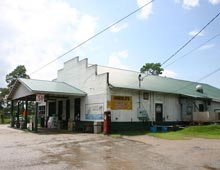 By the end of the night it seemed like a great idea to cool off with a dip in the river five miles down the road. Following some Yemassee locals to the nearby boat landing, we swam out into the pitch-black Combahee River. I soaked in the starlight as I listened to them exchange stories about growing up around these parts. Later, as we were coming out of the river, two boaters pulled up and said, "I wouldn't be swimmin' in these waters if I was you. We just passed 13 gators feeding upstream."
However, I knew my conversion into a local southern girl wouldn't be official until I experienced the Beaufort sandbar—a party island of debauchery that surfaces at low tide to mock downtown's soberness. I managed to find someone willing to take me out with a group of his friends. The five of us and our coolers of beer were most likely pushing maximum weight capacity as we made our way on the camouflage Jon boat. To no one's surprise, DNR pulled us over in just 10 minutes. By the grace of the Sandbar God, DNR could find no reason to hold us back.
The sandbar isn't even up yet when we get out there, but there are boats everywhere anchored in anticipation. We are staring at everyone as everyone is staring at us. The first boat we pull up to, a tan, muscled jock surveys our company and says, "Sluts and ducks."
"What a jerk," I think to myself. "What? Is every girl on a camo boat considered a slut?" Of course later I learn this is the name of our boat.
We anchored out and tied up to a different trio of boats. It's unbelievable how boat captains manage to maneuver between the groups of people in the water and the neighboring boats by simply pushing their own like an oversized inflatable. For the most part, the sandbar was a haven of relaxation. Without a care in the world we drank, we socialized and we floated in the filthy water under the summer sun. And when the two military fighter jets boomed above us across the sky, the masses cheered, "America!!"
After just a week, I see that Water Festival is a monument to Beaufort, to its families, its military, its salt life. After the sweet tea and Frogmore Stew are had, I see that the true colors of Water Festival shine in the Lowcountry's prideful southern roots. I see after a year of living here, Water Festival is an outsider's initiation to Beaufort and the South.