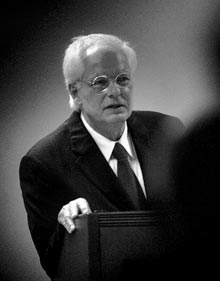 Jan Nordby Gretlund will give a talk called "Clyde Edgerton's Grandmas and Mummies: Age and Aging in the Carolinas" on Tuesday, August 7th at 4 pm at the Beaufort branch of the Beaufort County Library.
 Gretlund is an expert on Southern literature – an interesting specialty, considering he's Danish. He wrote his doctorate – which became a book – on Eudora Welty, and has been publishing on Southern literature for about 25 years. "And I intend to go on with it," he tells us. Gretlund is the Chair of the Center for American Studies and a Professor of American Literature at the University of Southern Denmark.
Gretlund says his relationship with Beaufort goes back to 1977. "I entered the old main USCB building on Carteret and said to the person sitting immediately inside the door on the right: "I need me a talk, I'm broke!" Lila Meeks was sitting there and fortunately she had my book on Walker Percy and set something up. This was the start of our friendship. The talk was on Southern humor. I won over the audience by pointing out that I knew that they thought I didn't know 'didly squat' about Southern literature or Southern roadkill."
Since then, Gretlund has taught many terms at USCB, often as a Fulbright scholar, and at the Southern Studies center in Columbia. Readers may remember several programs he brought to USCB, including: "The Best Reading their Best" (Spring 1999), "Reading Today's Southern Writers" (Jan. 2004), "Sixty Minutes with Flannery O'Connor: Four Speakers Who Knew the Writer" (Jan. 2006, in Columbia), and his talk at the Beaufort County Library on "Mark Twain: The Good American." He also set up "Celebrating the South Carolina Novel Today" at the New River Campus in 2010, which featured Pam Durban, Josephine Humphreys, and George Singleton. These are all South Carolinia writers, and so are the people Gretlund writes about currently: Percival Everett, Nikky Finney, Dori Sanders, and Ron Rash.
"I am not impressed by English departments where the teachers do not read and teach the local writers," he says.
Don't miss your chance to hear this knowledgeable, entertaining, not-at-all melancholy Dane talk about his lifelong passion, the literature of the American South. For more information, call the Beaufort Library at 843-255-6430.