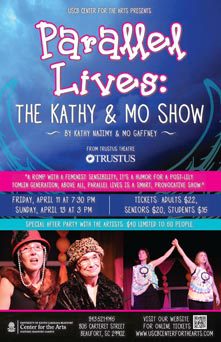 Ladies and gentlemen, get ready to laugh!! "Parallel Lives: The Kathy & Mo Show" is coming to the USCB Center for the Arts on April 11 and 13, giving audiences a decidedly wicked and hilarious look at men, women and modern life.
Show presented by Trustus Theatre in Columbia
Written and first performed in 1991 by comedians Kathy Najimy and Mo Gaffney, this playfully satirical series of sketches achieved cult status in its off-Broadway 20-year run and garnered the artists Obie awards for both writing and acting. It was also an HBO television special the first year of its run. The non-stop comedy lends unique perspective to a variety of female and male characters in situations that leave audiences breathless with laughter. Now featured in community theatres across the country, the play will be brought to Beaufort by Trustus Theatre actors Dewey Scott-Wiley and Elena Martinez-Vidal, who have been performing the play together for almost 20 years.
Two very talented actors in a variety of roles and situations
Their characters range from adolescence to midlife crisis to the golden years, with strong views on topics such as feminism, gender roles, gay rights and religion. The show opens with two Supreme Beings planning the beginning of the world with the relish of two slightly sadistic suburban housewives decorating a living room, and it just gets better and better! We get a glimpse into such situations as a woman's morning routine, senior citizens taking a course in women's studies, sisters at their grandmother's funeral and a man and woman in a country-and-western bar. In a review of the Trustus production, T.D. Smith, critic for Eventful website, said, "The joy of this piece is that we can all see ourselves – or someone close to us – in one or more of these characters. OK, it's harder for a man. But I contend that any guy that can't laugh at this play is in desperate need of it."
CODA and CAPA to benefit
CODA (Citizens Opposed to Domestic Abuse) and CAPA (Child Abuse Prevention Assn.) will benefit from contributions at both performances. CODA will receive a $1 donation for every ticket sold, and attendees are asked to bring one or more articles of gently worn women's clothing to be donated to the CAPA Closet thrift store.
Afterparty on Opening Night
On Opening Night, Friday, April 11, there will be an Afterparty with the actors at a private home in Beaufort. There will be a limit of 50 reservations at $40 per person. You can make reservations with your ticket purchase. So get your friends together and plan to attend this thoroughly entertaining source of historical, social and political commentary from a distinctly female point of view.
Performances are at USCB Center for the Arts, 801 Carteret St. in downtown Beaufort on Friday, April 11 at 7:30 p.m., and Sunday, April 13 at 3:00 p.m. Adults $22; Seniors $20; Students $15, all seats reserved. For tickets go to the website at www.uscbcenterforthearts.com or call the Box Office at 843-521-4145 Mon. – Fri. 10 am – 3 pm. or purchase at the door one hour prior to curtain.